Competition titles include Couple In A Hole, Sparrows, A Bigger Splash; Norway will be in the spotlight country.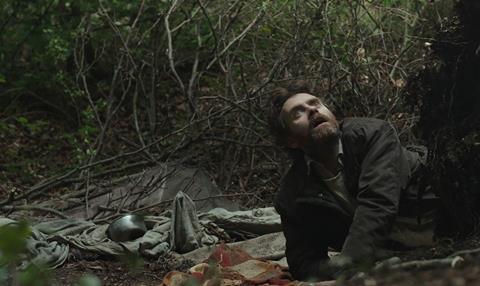 Tom Geens' Couple in a Hole [pictured], Rúnar Rúnarsson's Sparrows and Luca Guadagnino's A Bigger Splash will be among the 10 titles competing at the seventh edition of the Les Arcs European Film Festival (Dec 12-19) in the French Alps.
Another 20 short films will compete in the Igloo Short Programme including British Bafta-winning animators Greg and Myles McLeod's 365 and Dutch Edmond De Nina's Gantz.
The shorts will be shown in an "ice cinema" built at an altitude of 2,200 metres and only accessible by skis or on foot.
In total, some 120 films, selected to by the festival's artistic director Frédéric Boyer, will screen across the week-long event, which drew nearly 20,000 spectators in 2014.
New Sidebars
In addition to the competitive selections, the Les Arcs team - led by co-founders Pierre Emmanuel Fleurantin and Guillaume Calop - has added two new sidebars, "Playtime" and "Hauteur".
Playtime will focus on popular European movies such as road and action movies and comedies.
"We've launched Playtime to show that European cinema can be popular and of a high quality at the same time," said Calop and Fleurantin in a joint statement.
The new section will open with Norway's 2016 foreign language Oscar The Wave, Roar Uthaug's tsunami drama about a fjord-side village struck by disaster.
Other titles screening in the section include Nicolas Pariser's political intrigue Great Game (Le Grand Jeu) and Spanish director Cesc Gay's bittersweet comedy Truman about a man trying to tie up the loose ends of his life before dying.
The new Hauteur line-up is aimed at "elevating" auteur works. The eight-picture selection includes Polish Malgorzata Szumowska's Body, French Lucile Hadzihalilovic's Evolution and Turkish Emin Alper's Frenzy.
A previously announced focus on Norway will show a wide-range of the country's films from the last two decades including Anne Sewitsky's 2010 Sundance Grand Jury Prize winner Happy Happy, Bent Hamer's Kitchen Stories and Joachim Trier's Oslo, August 31st.
Sidebar events
Sidebar events at the festival include masterclasses by actor Niels Arestrup and director Xavier Beauvois.
A horror sidebar, launched last year, will also continue with screenings including Norwegian Tommy Wirkola's Dead Snow 2 and French Thierry Poiraud's Don't Grow Up.
Les Arcs's music focus events including a sidebar devoted to music films, the nightly Le Music Village and an industry conference, aimed at bringing cinema and music industry professionals together will also take place for a second year.
There will also be a new interactive section putting the focus on virtual reality in its inaugural year.
Works due to be showcased include an initiative "teleporting" viewers in a pop-up venue in Paris to the slopes of Les Arcs and the mind-bending installation The Machine to be Another.
Industry Events
Les Arcs is also expecting some 350 cinema professionals to attend its programme of industry events, headlined by the Co-Production Village Works-in-Progress initiatives.
As in previous years, it will also host a meeting of independent distributors, which was rebranded to Le Sommet des Arcs (The Summit of Les Arcs) from DIRE days last year.
Running Dec 15-19, the meeting will look at the challenges of distributing and exhibiting European films in France.
Attached to the event, there will be eight industry screening for upcoming films including Couple in a Hole, Bouli Lanners' The First The Last and Guillaume Senez's The Keepers.
There will also be three workshops including a session run by Rentrak on the first findings of its new study looking specifically at art-house cinemas and their performance vis-à-vis mainstream theatres.
Full details of the Co-Production Village Works-in-Progress initiatives will be released later this month.
LES ARCS 2015 COMPETITION TITLES
11 Minutes
Jerzy Skolimowski (Poland/Ireland)
A Bigger Splash
Luca Guadagnino (Italy)
Bang Gang
Eva Husson (France)
Chevalier
Athina Rachél Tsangári (Greece)
Family Film
Olmo Omerzu (Czech Republic)
Peur de rien
Danielle Arbid (France)
Couple in a Hole
Tom Geens (UK)
Sparrows
Rúnar Rúnarsson (Iceland)
The Ardennes
Robin Pront (Belgium)