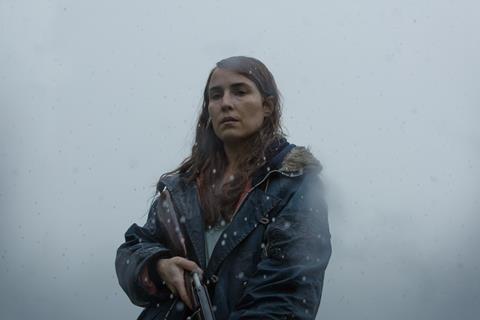 Upcoming films by Belgian filmmakers Eva Küpper and Nabil Ben Yadir, and Hungary's Anna Nemes are among the 18 feature projects from 34 territories to be presented at the Work in Progress event of Les Arcs Film Festival from December 14 to 21.
Nemes will show extracts from her documentary Beauty Of The Beast about female body builders. She is also working on fictional spin-off work Gentle Monster, with compatriot Laszlo Csuja, which won the top prize at the Sam Spiegel Film Lab in Jerusalem over the summer.
Ben Yadir's upcoming film Præy (aka Animals) was inspired by the true story of the homophobic murder of a young gay man who was beaten to death in Liege in 2012. Ben Yadir's previous feature credits include the thriller Blind Spot and La Marche.
Küpper's Dark Rider , is a documentary about a blind professional motorcyclist Ben Felton who is mentored by MotoGP legend Kevin Magee. It is her second feature-length documentary after award-winning debut What's In A Name about body art performer Jon Cory.
The Work in Progress event is aimed at helping projects in post-production to find sales agents and distributors.
It is part of the festival's Industry Village programme, which also includes the Co-production Village, the Talent Village and the Music Village. The Co-production Village projects were revealed earlier this month.
This year seven, or 39%, of the 18 Work in Progress projects are directed by women. Overall, 34% of the directors who submitted projects to the event were female.
One of the projects, Latvian director Laila Pakalnina's In The Mirror has been selected in partnership with Industry@Tallin & Baltic Event as part of Les Arcs' focus on Finland and Baltic countries this year.
Under the cooperation, Les Arcs has selected one of the projects due to be presented in Industry@Tallinn & Baltic Event's Work in Progress showcase taking place in Tallinn (Nov 26-27).
For the first time two of the films in the selection have already found sales agents: French director Charlène Favier's Slalom, which is with Jour2Fête, and Icelandic director Valdimar Jóhannsson's drama Lamb, which is sold by New Europe Film Sales.
Warsaw-based New Europe Film Sales has released a first image of the feature starring Noomi Rapace and Hilmir Snaer Gudnason as a couple who live with their herd of sheep on a beautiful but remote farm, whose lives are changed forever when they discover a mysterious newborn on their farmland.
The selected projects will compete for three awards: the €50,000 Eurimages lab project award, the €10,000 TitraFilm prize, for image and sound post-production services, and the €5,000 audience engagement award oriented towards digital film marketing.
The selected projects:
Beauty Of The Beast
Dir. Anna Nemes
Prod. Elf Pictures (Hungary)
Dark Rider
Dir. Eva Küpper
Prod. Serendipity Films (Belgium), Clin d'Oeil Films (Belgium) and Volya Films (the Netherlands)
Figures In The Urban Landscape
Dir. Ekaterina Selenkina
Prod. Vladimir Nadein (Russia)
Havel
Dir. Slávek Horák
Prod. Tvorba Films (Czech Republic)
The Gravedigger
Dir.Khadar Ahmed
Prod. Bufo (Finland), Pyramide Productions (France) and Twenty Twenty Vision (Germany)
The Hill Where Lionnesses Roar
Dir. Luàna Bajrami
Prod. Vents Contraires (France) and OrëZanë Films (Kosovo)
Luzzu
Dir. Alex Camilleri
Prod. Fishers of Men (Malta)
Myjing
Dir. Alessandro De Toni
Prod. Ladoc (Italy)
Præy
Dir. Nabil Ben Yadir
Prod. 10.80 Films (Belgium), Maje Productions (France), Les Films du Fleuve (Belgium) and A Team Productions (Belgium)
Shorta
Dir. Fredrik Louis Hviid and Anders Ølholm
Prod. Toolbox Film (Denmark)
Tenerife
Dir. Roman Vasyanov
Prod. Metrafilms (Russia)
The Last Ride Of The Wolves
Dir. Alberto De Michele
Prod. Halal (the Netherlands) and Jolefilm (Italy)
The Users
Dir. Ivan Ikić
Prod. Sense Production (Serbia), Kepler Film (the Netherlands) and Tramal Films (Slovenia), SCCA (Bosnia Herzegovina)
To Sail Close To The Wind
Dir. Gregoris Rentis
Prod. Asterisk* (Greece), Byrd (Greece) and Good Fortune Films (France)
Until The Land Tears Us Apart
Dir. Diane Sara Bouzgarrou and Thomas Jenkoe
Prod. Films de Force Majeure (France)
In The Mirror
Dir.Laila Pakalnina
Prod. Hargla Company (Latvia) and Just A Moment (Lithuania)
Slalom
Dir. Charlène Favier
Prod. Mille et Une Production (France), Auvergne-Rhône-Alpes Cinéma (France), Panache Productions (Belgium), La Compagnie Cinématographique (Belgium) et Charlie bus production (France)
Sales. Jour2Fête.
Lamb
Dir. Valdimar Jóhannsson
Prod. Go To Sheep (Iceland), Spark Film&TV (Sweden), Madants (Poland)
Sales. New Europe Film Sales.