French director to receive the Pardo d'onore at the Locarno Film Festival next month - only the second woman to receive the honour.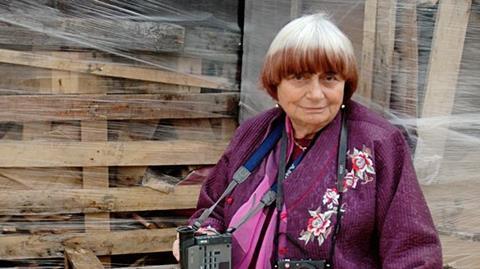 French director Agnès Varda is to receive the Pardo d'onore (honorary Leopard) at the 67th edition of the Locarno Film Festival (Aug 6-16).
The festival's tribute to her will be accompanied by screenings of a selection of her films: the features Cleo from 5 to 7 (1962), The Creatures (1966), Lions Love (…and Lies) (1969), Documenteur (1981), Vagabond (Sans toit ni loi, 1985), The Gleaners and I (Les glaneurs et la glaneuse, 2000) and The Beaches of Agnes (Les Plages d'Agnès, 2008), and the short film Oncle Yanco (1967), as well as the five episodes of the TV series Agnès de ci de là Varda (2011).
Varda will also take part in an on-stage coversation at the festival.
After working as a theatre photographer, Varda began directing in 1954 with the feature-length film La Pointe Courte, starring Philippe Noiret in his first role. The film, edited by Alain Resnais, became an important title as part of the Nouvelle Vague.
Locarno artistic director Carlo Chatrians said: "Varda has made formal experimentation and freedom an invariable hallmark of her work… Varda reminds us that film is a creative act that implicates the subject behind the camera – or directing it – both emotionally and politically."
Previous recipients of the Pardo d'onore include Samuel Fuller, Jean-Luc Godard, Ken Loach, Sidney Pollack, Abbas Kiarostami, William Friedkin, JIA Zhang-ke, Alain Tanner and Werner Herzog.
Agnès Varda is the second woman to be awarded the honour, following Kira Muratova in 1994.
Locarno's full line-up will be announced on July 16.