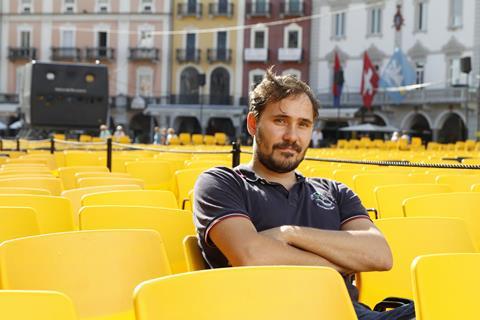 The Locarno Film industry has named long-time collaborator Markus Duffner as the new head of its industry programme Locarno Pro, with effect from January 2021.
He replaces Paris-based producer Valentina Merli who held the position for one year but has left to return to producing.
Duffner will be supported by Sophie Bourdon, who takes on the position of deputy head of Locarno Pro alongside her long-time role as head of Open Doors, the festival's programme aimed at nurturing cinema from the global south and east.
Nadia Dresti, who initially spearheaded Locarno's industry activities in 2000 and oversaw the programme until 2018, will also lend her expertise under the title of international advisor.
Duffner takes up the position at a complex time for the independent film professionals who usually attend Locarno Pro, due to the ongoing challenges of the Covid-19 pandemic, which also forced the industry programme online in 2020.
Born in Germany, Duffner grew up in Italy. He has previously worked with the MIA Market, in its early days when it was known as The Business Street, and collaborated with a number of film festivals, including the Monte Carlo Film Festival de la Comédie and the Voices Festival in Vologda, Russia.
He has been collaborating with Locarno Pro since 2014, taking charge of projects such as First Look and Match Me!.
In 2020, he spearheaded the creation of Locarno's new platform Heritage Online, devoted to the digital distribution of classic and auteur movies. Alongside his work at Locarno, he is also the co-founder of the VOD platform Spamflix, which specialises in rare cult films.
"In Markus Duffner, we believe we have found the person who will help us steer the boat of Locarno industry in new and uncharted waters," said Locarno's recently appointed artistic director Giona A.Nazzaro.
Duffner said he looked forward to staging a physical edition of Locarno Pro in 2021, after the move online this year, under which many of its traditional components were put on ice. "While we wish that next year will be the reboot year for the whole film industry, we will monitor and study its developments to be back in August to offer a fully functioning Locarno Pro, offering all the initiatives we postponed for a year and to welcome back all the professionals who usually attend," he said.
The 74th edition of the Locarno Film Festival is scheduled to take place from August 4-14, 2021, with Locarno Pro running August 5 -10.