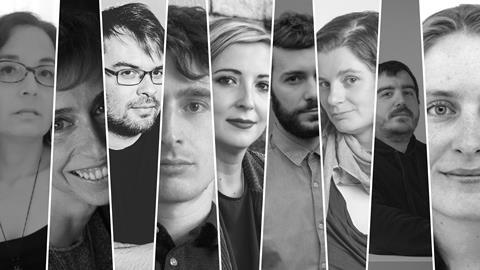 French-Chilean film critic and consultant Pamela Biénzobas, Festival Scope co-founder and festival programmer Mathilde Henrot and Italian critic Giovanni Marchini Camia have been named as members of Locarno's new selection committees for its 2021 edition.
The new committee members have been handpicked by its recently appointed new artistic director Giona A. Nazzaro.
"Setting up a new team with the right skills, know-how and motivation to work with the artistic director is a crucial step. This is a talented line-up of film industry professionals, whose expertise is internationally recognized," said Nazzaro.
The announcement comes six weeks after Nazzaro's whirlwind appointment to his new Locarno role, following the sudden, unexpected departure of previous artistic director Lili Hinstin in September after just two editions in the job.
On taking up the post, Nazzaro told Screen that one of his key ambitions was to foster as much diversity as possible within the programme under his watch.
"I am proud of this team, whose members are fully in line with both gender parity and the direction of our artistic research, and I am quite sure that our results will meet the high standards set by the tradition of the Locarno Film Festival," he said. "Together they represent a plurality of gazes that perfectly captures the idea of a festival looking to the future."
The festival said that Nazzaro's choices had been endorsed by its executive board and that the call for entries had also been brought forward to mid-November so that the new team could begin its work on the selection process as quickly as possible.
The 74th edition of the Locarno Film Festival will take place from August 4 to 14, 2021. It will follow a one-year physical hiatus for the festival this year due to the Covid-19 pandemic.
Full details of the selection committees

Bios provided by Locarno
Feature-length features
Pamela Biénzobas - a Chilean-French film consultant, critic and journalist who has long experience collaborating with film funds and industry events such as La Fabrique des Cinémas du Monde, Abycine Lanza, CineGouna Platform and the Doha Film Institute.
Mathilde Henrot from France, a programmer at the Sarajevo Film Festival, producer and co-founder of the Festival Scope Pro streaming platform, who has been on the Locarno Film Festival selection committee since 2019; director and producer.
Stefan Ivančić, from Belgrade, Serbia, whose work has garnered numerous international awards and who served on the selection committee for the Pardi di domani shorts section at Locarno from 2017 to 2020.
Giovanni Marchini Camia, a film critic and programmer with dual Swiss and Italian nationality who writes for international titles including The Guardian and Film Comment and who is also director of the film culture magazine Fireflies. He has worked for the Locarno Film Festival since 2017 on projects such as the Locarno Talks la Mobiliare and Filmmakers Academy; Italian film critic and programmer.
Daniela Persico, since 2013 a close collaborator with the Locarno Film Festival, where she has curated the film-and-literature event L'immagine e la parola and has served on the selection committee since 2019.
Short films (Pardi di Domani)
Eddie Bertozzi, will head up the short film selection committee. An Italian film critic, he has a background in academic research on Chinese cinema, but is also active in film distribution and was program manager of the International Film Critics' Week at the Venice Film Festival from 2009 to 2020.
Anne Gaschütz, German festival organizer and programmer, co-director of Filmfest Dresden - International Short Film Festival and one of the initiators of Talking Shorts, an online platform devoted to short film criticism.
Enrico Vannucci from Italy, an advisor on short films for the Venice Film Festival from 2014 to 2020 who was among the founders of both the Torino Short Film Market and Talking Shorts.
Valéria Wagner from Switzerland, a Zurich-based film producer and member of the programming office of Visions du Réel for its 2020 edition.
Regional Advisors
Jihan El Tahri, director, writer, visual artist and multiple award-winning producer, General Director of the Berlin-based documentary support institution DOX BOX. An expert in documentary filmmaking, she will be dealing with the Middle East, North Africa, Turkey and Iran.
Manlio Gomarasca, founder and editor-in-chief of the magazine Nocturno Cinema, curator of major retrospectives for the Venice Film Festival and previously advisor to the selection committee at Locarno. He will be sharing his expertise on genre cinema.
KIM Young-woo, a programmer in charge of Asian cinema for the Busan International Film Festival and one of the selection team for the Asian Project Market (APM). He will be focused on China, Korea and South-East Asia.
Olaf Möller, film critic, programmer and consultant to film archives and museums, who co-curated the Locarno Film Festival's 2016 Retrospective on cinema in the young Federal Republic of Germany. He will be advising on Japan, India and Russia.
Tiny Mungwe, a documentary film and arts producer who was previously a programmer for the Durban International Film Festival and an associate curator for the Durban FilmMart program. She will be offering guidance on cinemas in Sub-Saharan Africa.
John Nein, Senior Programmer at the Sundance Film Festival since 2001 and curator of the Sundance Institute's film preservation initiative, the Sundance Collection at UCLA, who was also the creator of the popular film culture conversation series Lost & Found at the Movies, and will be consultant for North America.