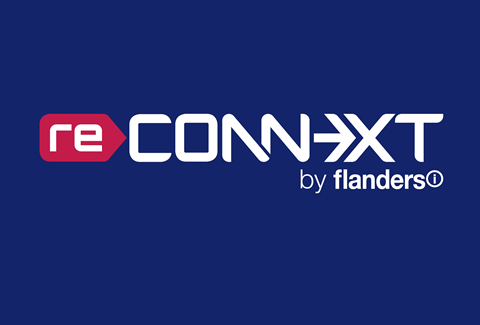 A collection of films shot during lockdown with a cast that includes Matthias Schoenaerts is to be presented at Re>Connext (Oct 5-31), the annual film and TV showcase run by Flanders Image.
A first look at The Lockdown Shorts, which spans drama, comedy, thriller and horror, will be presented as a works in progress project at the virtual event by producer-directors Gilles Coulier and Maarten Moerkerke.

All 12 films were shot under coronavirus-safe conditions on the same studio set: a prison visiting room where the characters are separated by glass. Each short stars two actors and was filmed with a small crew, who were each given one day to prepare and one day to shoot.
The cast includes César award-winning actor Matthias Schoenaerts (Rust and Bone) and Veerle Baetens, star of the Oscar-nominated The Broken Circle Breakdown and The Ardennes. Other cast includes Johan Leysen, Peter Van den Begin, Maaike Neuville, Tom Vermeir, Monir Aït Hamou and Sara De Roo.
Alongside Coulier and Moerkerke, other directors include Michael R. Roskam (Bullhead); Frederike Migom (Binti); Robin Pront (The Ardennes); Kaat Beels (Hotel Swooni); Dorothée Van den Berghe (My Queen Karo); Wouter Bouvijn (The Twelve); Jonas Govaerts (Cub); Christina Vandekerckhove (Rabot); Jan Eelen (Callboys); Kato De Boeck (Provence); and Flo Van Deuren (Bamboo).
The project has been spearheaded by Belgian production companies De Wereldvrede and Lecter Media with support from the Flanders Audiovisual Fund (VAF) and public broadcaster VRT.
As previously announced, Re>Connext will also present another project that was produced during lockdown. Milo Rau, whose documentary The New Gospel recently premiered at Venice Days, will screen his new drama Family, starring Filip Peeters, An Miller and their two daughters, based on Rau's critically acclaimed play.
In total, Re>Connext will present more than 70 features and TV series including several that were set to screen at the event but will be presented as works-in-progress due to delays caused by the pandemic. These include upcoming Netflix drama series Soil, directed by Bad Boys For Life duo Adil El Arbi and Bilall Fallah; Jeroen Perceval crime drama Dealer; and documentary The Vatican.
The virtual showcase was established after the fifth edition of CONNEXT, which serves as an export platform for film and TV drama made in Flanders, was cancelled due to the ongoing pandemic. When this decision was made, in March, Flanders Image reallocated the entire budget to a Covid-19 distribution fund, aimed at supporting the theatrical release of its films in the country.