Chris Hanson and Gráinne McKenna have both been made partners at the company.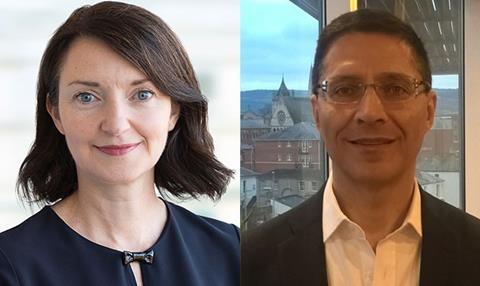 London-based media and technology law film Wiggin has bolstered its film & TV practice with two key hires.
Chris Hanson, previously of law firm DLA Piper, has joined as a partner, while Gráinne McKenna, previously of Working Title and NBC Universal, has been upped to partner.
Wiggin's roster of film clients includes Disney, Twentieth Century Fox, Warner Bros, Sony Columbia, Paramount and Lucasfilm. It's TV and online clients include HBO, Showtime, Netflix and Amazon.
Hanson has more than 20 years' experience in the film, TV and video game industries and has worked across the financing, production and licensing of audio-visual content with US studios and further clients in Europe and Asia.
McKenna, whose prior experience includes as head of legal & business affairs at NBC Universal International TV Production as well as stints in Working Title's film and TV departments, joined Wiggin in November 2015 and has now been made partner.
Wiggin also recently added Melissa Frost, previously a film lawyer at Lionsgate, and James Peel from NBC Universal TV, to its film & TV group.
Wiggin film & TV partner Charles Moore commented: "The expansion of the team is a reflection of the unprecedented activity seen in the film and TV production sectors over the last few years and of the UK Government's continued investment in the creative industries.
"Gráinne has a fantastic reputation as a lawyer and business affairs executive across the film and TV industry, with great commercial acumen. Our TV production practice, where we already represent many of the leading US broadcasters and UK production companies, is a major focus for growth and we see Gráinne playing a pivotal role in the continued expansion of our TV business."
Wiggin film & TV Partner David Quli added: "One of the key priorities for our media finance practice is to expand our international client base into the US studios and Asia. Chris's profile and reputation among this client base is second to none. We very much look forward to working together to build the practice further, and to capitalise on the current unsurpassed levels of UK film and TV production."