Stone and Billie Jean King expected to attend European premiere of tennis drama.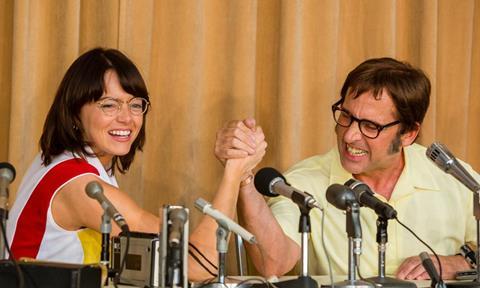 Battle Of The Sexes, starring Emma Stone and Steve Carell, is to screen as the American Express Gala at the 61st BFI London Film Festival (Oct 4-15).
The film will receive its European premiere on October 7 at London's Odeon Leicester Square, with Stone, Andrea Riseborough, Elisabeth Shue, directors Valerie Faris and Jonathan Dayton and Billie Jean King expected to attend.
Battle Of The Sexes tells the true life story of the 1973 tennis match between women's world champion Billie Jean King (Emma Stone) and ex-men's-champ and serial hustler Bobby Riggs (Steve Carell).
Their match, billed as the 'Battle Of The Sexes', was one of the most watched sporting events of all time.
Andrea Riseborough, Sarah Silverman, Bill Pullman, Alan Cumming and Elisabeth Shue co-star in the Fox Searchlight Pictures production, which is directed by Jonathan Dayton and Valerie Faris from a screenplay by Simon Beaufoy.
There will also be screenings of the film with highlights from the festival premiere taking place at cinemas across the UK on October 10.
Battle Of The Sexes is produced by Cloud Eight Films' Christian Colson and Decibel Films' Danny Boyle, the team behind Slumdog Millionaire, 127 Hours and Steve Jobs, and Robert Graf, who previously collaborated with the directors on Ruby Sparks.
BFI London Film Festival director Clare Stewart said: "This playful, funny and moving film is a rousing tribute to Billie Jean King whose impact on gender politics was as powerful as her legendary forehand."
Twentieth Century Fox will release the film across the UK and Ireland on November 24.
As previously announced, LFF will open with Breathe directed by Andy Serkis and starring Andrew Garfield and Claire Foy. The full programme will be announced on August 31.