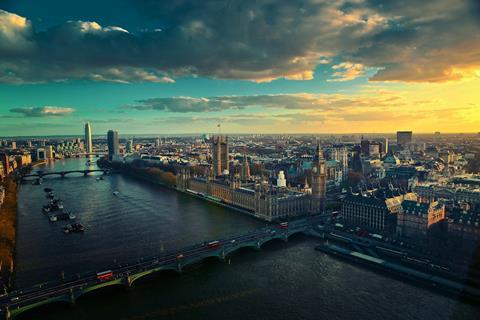 London Screenings 2021 has been scrapped as a result of the ongoing pandemic but is set to return as an in-person event next year.
Film London, which organises the annual export market dedicated to UK film, had been exploring hosting the four-day showcase in October, ahead of the London Film Festival (October 6-17). This was after abandoning plans to stage the event in its usual June slot.
But the organisation has today confirmed that this year's edition has been cancelled due to issues around hotels for international guests, a venue and uncertainty related to the virus crisis.
Helena Mackenzie, Film London's head of inward investment and business development, who has organised the event since its inception 18 years ago, outlined the decision in an email to the industry.
"Due to many reasons including venue availability, hotel issues, travel and quarantine uncertainty, and social distancing still potentially being in place in some way, we are not able to deliver the first-class event we all want and have made the decision to cancel the Screenings this year," said Mackenzie.
"But, London itself is very much the beating heart of the London Screenings and so we will begin to plan to have them back in their usual home slot in June next year, and host a monster London comeback. We will confirm dates later in the year."
The annual event invites international buyers to watch a selection of new UK films, meet UK sales companies and negotiate distribution deals. It also provides a market for UK sales companies, and is funded and supported by the BFI, Mayor of London, Film Export UK and the Department for International Trade.
In 2019, the showcase moved from its long-time home at London's BFI Southbank to Picturehouse Central in the heart of the West End. The dates were also shifted back a week, closer to the end of June.
It drew 168 distributors, predominantly European, but was also attended by buyers from North America and Asia as well as streaming giant Netflix. A total of 95 sales agent participated, a higher number than in previous years, and was reportedly expected to generate up to $4m in business. London Screenings also includes a Breakthrough strand to highlight completed features and documentaries from UK filmmakers seeking sales representation and international film festival exposure. This went ahead as a standalone event this year, fully online, on June 8.
The move to cancel comes as the average number of daily confirmed cases of Covid-19 in the UK has risen sharply in recent weeks, after declining substantially at the start of this year. The rise is driven by the Delta variant of the virus and a further 32,548 confirmed cases in the UK were announced on Wednesday (July 7).
However, all legal pandemic restrictions are set to end in England from July 19, removing any limits of numbers meeting indoors or outdoors and an end to the one-metre-plus social distancing rules. Legal requirements to wear face coverings will also end as part of a larger plan by the UK government for "living with Covid".