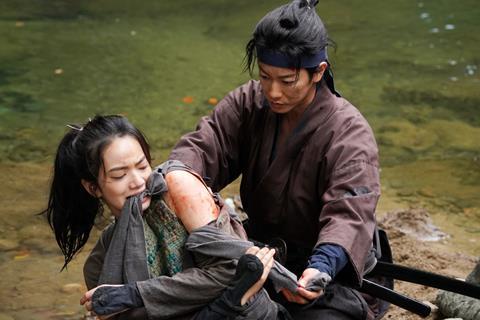 Some 160 international buyers are expected to attend Film London's new-look London Screenings which start in the UK today (June 24).
For the first time in 16 years, the four-day showcase of films handled by UK sales companies, is moving out of its old home at BFI Southbank in Waterloo to take up residence at Picturehouse Central in the heart of the West End. The date has also been moved back a week, closer to the end of June.
The distributors in town include the new German powerhouse backed by KKR, which earlier this year acquired both the Tele-Munchen Group and Universum, as well as UGC, TF1, Filmax, NonStop, Fidalgo, RAI, Eagle, Lucky Red, SquareOne, Splendid, ProKino and Ascot Elite. Japanese buyer New Select is also confirmed to attended. Newcomers include Spanish outfit Karma Films.
The Screenings were previously held at the BFI venue on the South Bank where delegates conspicuously had few other distractions.
"For a number of years we felt it was a good idea to try and create a cocoon around the buyers," acknowledged Adrian Wootton, chief executive of Film London and the British Film Commission.
That rhetoric has now changed with the realisation buyers preferred to be in the centre of London.
"In business terms, although we very much want the buyers to attend the screenings, we are also aware they want to have other meetings - to pop in and out [of the Screenings] to see people in the West End," said Wootton.
"The film industry is still, to a very large extent, based in Soho. It feels very much like we are bringing distributors to our home," agreed Charlie Bloye, CEO of Film Export UK (FEUK), of the new location.
"Frankly, if somebody wants to go off and go shopping and not watch films, there is probably not anything anyone can do about it," suggested Tim Grohne, president, international and production at Carnaby International.
Organisers point out attendance at individual screenings is closely monitored and absentee buyers are not invited back.
Dedicated showcase
The London Screenings are organised by Film London with support from the BFI, Mayor of London, Film Export UK and the Department for International Trade. Invited buyers are provided with accommodation in an upmarket Park Lane Hotel and cover their own travel expenses.
The event gives UK sales companies the opportunity to close further sales on films they may have premiered at festivals earlier in the year. HanWay Films is screening Bernard Rose's Samurai Marathon fresh from its European premiere at the Edinburgh International Film Festival last week, and is also screening Takashi Miike's First Love which screened in the Directors' Fortnight at Cannes where it sold to Well GO USA for North America as well as to various European territories.
"There are all the top buyers from Spain, France and Italy," said Nicole Mackey, head of sales at HanWay. "It is just not to have time really to chat. We absolutely intend to do sales. We will be talking about all the future projects as well and films we are likely to have in the autumn festivals and even further in advance."
Gary Phillips and Mark Vennis' Moviehouse Entertainment is screening Adrian Shergold's Cordelia starring Antonia Campbell-Hughes and Johnny Flynn, and Richard Heap's children's adventure The Runaways.
"It's a really good opportunity to see a lot of those Europeans who quite honestly don't always have the time to see you in Cannes," said Phillips. "They're too busy chasing the big American films or they are involved in launching films."
Carnaby is not screening any new titles but will be discussing upcoming projects including The Rise of the Foot Soldier 4: Marbella. Similarly genre specialists Jinga Films is not screening titles either preferring to introduce buyers to its new Latin American titles, Infection and I Am Toxic, both due to launch formally in the autumn.
Jinga's Julian Richards has sealed some significant deals at previous events. "We've sold several films in the past as a result of London Screenings," he explained. "The first we sold, when we originally set the company up in 2007/2008, was The Disappeared. We did a Benelux deal. Then, the following year, we got a North American deal for one of my films, Summer Scars."
Last year, there was an issue with some sales agents holding private screenings off site, taking advantage of the presence of the buyers in the UK. It is too early to say whether this is happening again but FEUK's Bloye makes it very clear such screenings will be censured.
"Film Export UK greatly appreciates that quite a significant amount of public money is going into sponsor the foreign buyers to come to London to attend," he pointed out. "We do take a very dim view of companies that are undermining the event by luring people away from the centre of activities."
Alongside the buyer screenings, the event will again have a Breakthrough event for completed feature films from emerging UK filmmakers looking to attach sales agents.
Although few specific deals tend to be announced during the Screenings week itself, the event is expected to generate up to $4m in business.
Phil Hunt, founder and managing director of sales agent Bankside Films, as well as producer/financier Head Gear Films, hails London Screenings as a vital event. "I think it is brilliant. London is one of the financial centres of the world and yet this is the only film market that it has," he said. "If anything, it should expand."