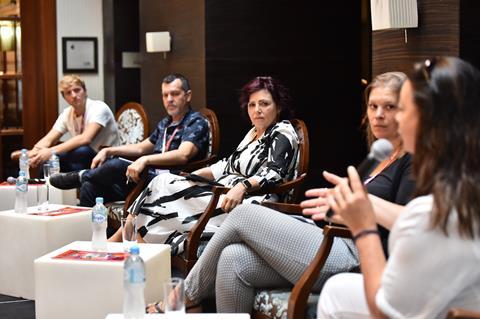 Look to airlines and other overlooked "traditional" platforms to fund documentary projects, Shane Smith, programming director of Canada's prestigious Hot Docs festival, urged producers at a panel at the Sarajevo Film Festival on Sunday August 18.
"On the flight here I watched an amazing independent Australian documentary about a film editor that didn't have a high profile, but that was sold to Lufthansa," he said.
"Airlines have all of this bandwidth now, these systems for hundreds of hours of programming," he continued. "A lot of the domestic airlines in different countries will want to include domestic films as part of their offering. That's an opportunity that I think is under-explored – mining those niches as well as new platforms is key to maximising what you can do."
Smith was taking part in a Cinelink Talks event called 'Opening The Window To New Platforms For Documentaries' part of the CineLink industry strand of Sarajevo Film Festival.
He was joined by Leena Pasanen, artistic director of German documentary event DOK Leipzig. "When I started working, 80% of funding came from television," Pasanen recalled. "Today if you get 20% of funding from TV you are lucky – quite often it's even less than that."
She said filmmakers are now required to find alternative funding sources including sales agents, distributors, and to look at international co-production opportunities to get their films made.
"Now it's much more producer-driven, as producers have access to their national funding," she said. "When the money comes from a film institute, there is potential for more artistic freedom. It might be you have to produce or do something in the countries involved."
"Artistically you have to find the right players that are willing to support the film you want to make. Producers and sales agents can be really helpful – they know where to find the money and what would be the best strategy to sell the film. It doesn't risk the artistic integrity any more than the old system."
Familiar story
The panellists reiterated the pros and cons of working with the streaming giants.
"I know of one filmmaker who got an offer from Netflix, and the financing for the film was solved, but then you can't do the festival tour or theatrical release you want to do," said Laurien ten Houten, industry and docs- for- sale manager at International Documentary Festival Amsterdam. "In the end they said 'no' to this big money that would've solved all their problems. That's not an easy no."
Attempting to anticipate the material the SVoD companies might want is futile, said Harry Vaughn, a Sundance programmer who specialises in documentaries.
"Trying to predict what Netflix will do in the future is impossible," he said. "It's great they're coming to the festival to read the temperature of the projects that we've chosen. The curatorial ownership feels still very much in our hands."
"It's important to stress that the vast majority of projects we're considering are streamer-free when they're submitting the rough cuts to us. It hasn't become the Netflix Sundance Film Festival."