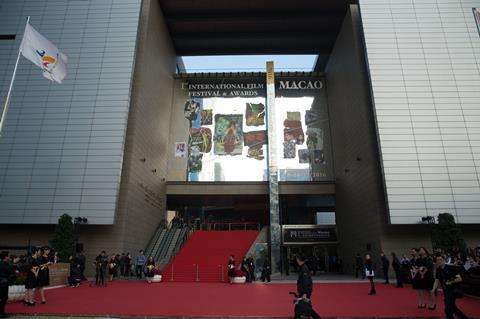 The IFFAM Project Market (IPM) has unveiled 14 films that will be presented during the three-day event in Macao, which runs December 6-8.
They include supernatural thriller Nocebo from Irish director Lorcan Finnegan, who's Vivarium was in Cannes Critic's Week this year, and The Day And Night Of Brahma, a family drama by South African director Sheetal Magan, whose short Paraya was presented in Cannes Directors Fortnight.
Other titles include coming-of-age feature Uk Kei from Portuguese director Leonor Teles, the youngest director to have ever won the Golden Bear for best short at the Berlinale in 2016.
Japanese director Satoshi Miki (It's Me, It's Me) is also among the selection with whimsical fantasy The Convenience Store while Filipino director Dodo Dayao (Violator) brings cosmic horror Dear Wormwood.
After introducing a Work in Progress strand last year, two titles will head to Macao under the WIP Presentation banner. They include Dutch director Jim Taihuttu's Indonesian wartime drama The East and Vicente Amorim's action thriller Yakuza Princess.
The event will run during the industry activity of the 4th International Film Festival & Awards, Macao, which takes place December 5-10.
Market partners of this year's IPM include Blood Window (Argentina), FIRST Financing Forum (China), Frontières (Canada) and Sitges (Spain).
The 14 titles in the Project Market will vye for four cash awards: Best Project; Best Co-Production; Creative Excellence; and Macao Spirit. The jury comprises Singapore director Eric Khoo, EFM director Matthijs Wouter Knol and Kino International CEO Shozo Ichiyama.
IFFAM Project Market 2019 Selection List
Blue Mountain, dir: Joy Penroz, pro: Sylvain Grain
The Convenience Store, dir: Satoshi Miki, pro: Emi Ueyama
The Day and Night of Brahma, dir: Sheetal Magan , pro: Sheetal Magan
Dead Packet, dir: Simon Yin, pro: Gary Lee
Dear Wormwood, dir: Dodo Dayao, pros: Bianca Balbuena, Bradley Liew, Patti Lapus
Drum Wave, dir: Natalie Erika James, pros: Anna McLeish, Sarah Shaw
Escape to Oz, dir: Sam Voutas, pros: Jane Zheng, Melanie Ansley
Everybody Leaves, dir: Phyllis Grae Grande, pro: Alemberg Ang
The Fortune Tower, dir: Harriet, Wong Teng Teng, pro: Cynthia Mo
Investigator Mendonza, dir: Maxim Bessmertny, pros: Jeff Tang Hon Hung, Jorge Cordeiro dos Santos
Nocebo, dir: Lorcan Finnegan, pros: Brunella Cocchiglia, Emily Leo
Perspectives, dir: MAO Weiqing, pro: SONG Jia
Uk Kei, dir: Leonor Teles, pro: Filipa Reis
Welcome, dir: Geoffrey Cowper, pros: Cayetano Casas, Norbert Llaràs
IFFAM WIP Presentation 2019 Selection List
The East, dir: Jim Taihuttu, pros: Benoit Roland, Sander Verdonk, Shanty Harmayn Hofman
Yakuza Princess, dir: Vicente Amorim, pro: L.G. Tubaldini Jr.Asian Film Awards to move to Busan in 2020