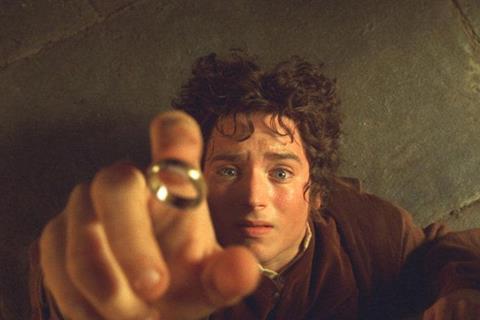 | | | | | |
| --- | --- | --- | --- | --- |
| Rank | Film (Distributor) | Three-day gross (Jul 24-26) | Total gross to date | Week |
| 1 | Onward (Disney) | £48,142 | £5.43m | 7 |
| 2 | Trolls World Tour (Universal) | £35,053 | £177,798 | 3 |
| 3 | Dreambuilders (Signature Entertainment) | £25,711 | £45,951 | 2 |
| 4 | Dirty Dancing (Lionsgate) | £24,836 | £293,319 | 167 |
| 5 | Lord Of The Rings: The Fellowship Of The Ring (extended) (Warner Bros) | £24,136 | £24,136 | 1 |
GBP to USD conversion rate: 1.26.
The Lord Of The Rings trilogy is back in the UK and Ireland box office chart as a lack of major new releases sees audiences turn to old favourites.
Disney continued to lead the post-lockdown box office, with Pixar animation Onward holding the top slot with £60,000 across 148 locations from Friday to Sunday (July 24-26) – an average of £405 – for a total to date of £5.53m.
But Warner Bros' extended versions of the Lord Of The Rings trilogy saw the first instalment in the fantasy series place fifth over the weekend. Lord Of The Rings: The Fellowship Of The Ring, originally released in 2001, took £24,136 from 82 locations, generating an average of £294.
Extended versions of Lord Of The Rings: The Two Towers and Lord Of The Rings: The Return Of The King were released on Saturday and Sunday respectively (both in 58 locations) and took £10,284 and £9,771 respectively. The original theatrical versions of the JRR Tolkien adaptations, directed by Peter Jackson, took close to $3bn at the worldwide box when first released from 2001 to 2003.
The weekend's top five also included Universal's animated sequel Trolls World Tour, which ranked second with £35,053 from 126 locations for a £278 average and running total of £177,798.
Signature Entertainment's family animation Dreambuilders performed well on its second week of release, rising from sixth to third place with £25,711 from 91 locations, averaging £286 for a cume of £45,951.
Lionsgate's re-release of Dirty Dancing continued to hold its position amongst in the top performers, rounded out the top five, taking £24,836 from 50 locations over the three-day weekend and generating a running total of £325,154.
Cinemas are now allowed to reopen in England, Scotland and Northern Ireland, with Covid-19 safety measures in place, while cinemas in Wales can unlock their doors from today (July 27).
New releases
After Lord Of The Rings, Altitude's Stage Mother led the new titles, with £17,000 from 114 sites for a £150 average and cume of £19,239 including previews. The Thom Fitzgerald-directed drama stars Jacki Weaver as a Texas choirmaster who moves to San Francisco to save her dead son's drag club.
Altitude also added £13,472 for its genre title Black Water: Abyss from 70 sites, for a running total of £84,094 to date.
Vertigo Releasing opened St Frances to £11,664 from 105 sites including £1,927 in previews, for a £111 average. The SXSW award-winner marks the feature directorial debut of Alex Thompson and centres on a waitress who rethinks her life after being charged with the care of a young girl.
But it was Latvian war film The Rifleman that generated an exceptional screen average, relative to this period. The film, distributed by Parkland Entertainment took £6,761 (of which £5,379 was on Sunday) from 14 locations. This translates into a screen average of £520, more than any title in the top 10. The film, directed by Dzintars Dreibergs, proved the biggest box office hit in its native Latvia in more than 30 years when released in November.
Modern Films opened The Traitor, Marco Bellocchio's mafia drama which debuted in Competition at Cannes. It took £13,496 across 14 theatrical sites and 16 virtual screening rooms for an £450 average. With previews, its gross is £18,995. It will roll out to Curzon sites this week. Clemency, starring Alfre Woodard, on which Modern Films has teamed with Phil Hunt and Lucy Fenton's new distributor Bohemia Media, is up to £31,443 after its second weekend of release.
With studio releases such as Tenet and Mulan pushed back, Altitude will be behind the first major US release in the UK since lockdown with Russell Crowe road rage thriller Unhinged set to open this weekend. Others include Lionsgate feature Summerland; The Vigil and 100% Wolf from Vertigo Releasing; and Parasite (Black & White) from Curzon.