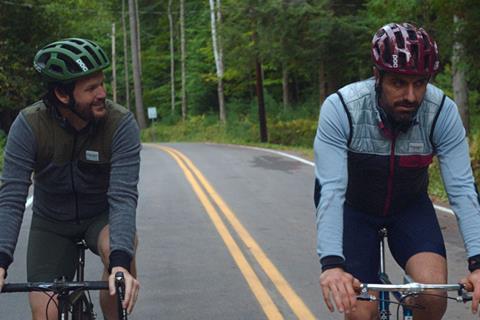 Sophie Deraspe's Canadian Oscar submission Antigone, Matías Meyer's Modern Love, David Zonana's Workforce and Michael Angelo Covino's The Climb are among the Los Cabos International Film Festival's competitive sections, Competencia Los Cabos and México Primero, announced on Tuesday (15).
Entries in the Competencia Los Cabos are: Modern Loves (Amores Modernos, Mexico), Matías Meyer; Antigone (Canada), Sophie Deraspe; Ash (Canada), Andrew Huculiak; Greener Grass (US), Jocelyn DeBoer and Dawn Luebbe; Honey Boy (US), Alma Har'el; Holy Beasts (La Fiera y La Fiesta, Mexico-Dominican Republic), Laura Amelia Guzmán and Israel Cárdenas; The Body Remembers When The World Broke Open (Canada), Elle-Máijá Tailfeathers and Kathleen Hepburn; The Climb (US, pictured), Michael Angelo Covino; and The Twentieth Century (Canada), Matthew Rankin.
Jurors for the selection comprise filmmakers Eliza Hittman (US) and Sebastián Silva (Chile), and TIFF senior director of film Diana Sánchez.
México Primero entries are: Club Internacional Aguerridos, Leandro Córdova; Ana's Desire (El Deseo de Ana), Emilio Santoyo; The Dove And The Wolf (La Paloma y El Lobo), Carlos Lenin; Workforce (Mano de Obra Workforce), David Zonana; and Birdwatching (Observar Las Aves), Andrea Martínez Crowther.
The México Primero jury comprises Mexican director Alejandra Márquez Abella, US filmmaker Crystal Moselle, and Argentinian actor Nahuel Pérez Biscayart.
Los Cabos International Film Festival runs from November 13-17.