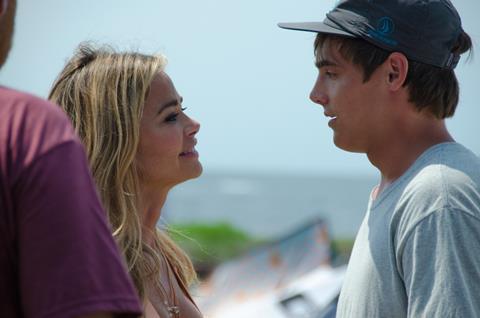 Voltage Pictures has added three new titles to its slate in the days leading up to the Cannes virtual market, boarding sales on rom-com A Nice Girl Like You, thriller Lost Girls & Love Hotels, and sports action film Send It!
A Nice Girl Like You stars Lucy Hale from Pretty Little Liars as a violinist who draws up a wild, life-changing to-do list after her boyfriend tells her she is too inhibited.
Nick Riedell and Chris Riedell directed the rom-com, which Andrea Marcellus adapted for the screen from Ayn Carrillo-Gailey's memoir, Pornology. The film is in post and the cast includes Jackie Cruz (Orange Is The New Black) and Adhir Kalyan (Mall Cop franchise).
Caliwood Pictures's Jina Panebianco is producing alongside Nicholas Bogner and Melanie Greene, with R. Wesley Sierk, Michael J Reiser and John D. Straley as executive producers.
Alexandra Daddario (San Andreas, Baywatch) Takehiro Hira (The Fighter Pilot, The Floating Castle) and Carice Van Houten (Game Of Thrones, Black Book) star in Lost Girls & Love Hotels, about a respected English teacher who trawls Tokyo's bars and love hotels by night and falls for a dashing Yakuza gangster. William Olsson directs the thriller, currently in post.
Send It! (first-look image pictured) takes place against the backdrop of the international kiteboarding scene and stars Denise Richards (Wild Things, The World Is Not Enough) and Patrick Fabian.
Andrew Stevens directs the story about an idealistic young man who travels to the extreme sport's most prestigious tournament and along the way meets a street-smart girl. The cast includes Kevin Quinn, Claudia Lee, 2 Chainz, and a cameo from avid kiteboarder Richard Branson. The project is in post.
The trio joins a Voltage slate that includes upcoming action thriller The Marksman starring Liam Neeson, gangster crime biopic Lanksy starring Harvey Keitel, Sam Worthington and Annasophia Robb, and horror feature film The Call with Insidious' Lin Shaye and Saw's Tobin Bell.
"As the world changes dramatically around us, one of the few constants we've seen is audience appetite for high quality films that entertain and engage," said Voltage president and COO Jonathan Deckter. "The addition of A Nice Girl Like You, Lost Girls & Love Hotels and Send It! to our sales slate is part of our ongoing commitment to our partners to offer an appealing array of quality content."