Universal's action sci-fi becomes director Luc Besson's best-ever UK performer as it records a second straight week at the top of the chart.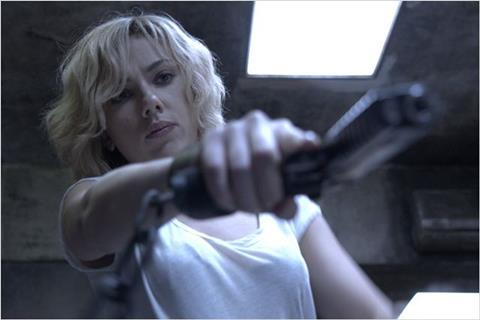 Marking out Scarlett Johansson as a bankable lead, Lucy has retained the top spot at the UK box office.
Universal's action sci-fi dropped a respectable 37% for a second weekend of $3.3m (£2m) for a ten-day tally of $13.3m (£8m), with the film potentially set to cross the £10m mark by the end of next weekend.
According to figures from Rentrak, that makes Lucy the best-ever UK performer for director Luc Besson, topping the $11.8m (£7.1m) result of The Fifth Element.
Also for Universal, As Above, So Below was somewhat soft as it could only scare up $661,000 (£398,000) at a site average of $1,963 (£1,181). That marks the lowest UK debut for director John Erick Dowdle, below Quarantine's $684,000 (£411,457) from 269 sites.
Secret Cinema's run of Back to the Future ended its run with $5.6m (£3.37m).
FOX
The week's highest new entry came in the form of Let's Be Cops as it charted second.
Fox's action comedy recorded a sturdy $2.7m (£1.7m) UK debut, including $840,000 (£505,612) in previews, from its 445 sites. Its Fri-Sun tally of $1.9m (£1.14m) would have seen it chart third.
That marks director Luke Greenfield's best-ever UK bow, ahead of The Girl Next Door's $1.2m (£713,107) from 325 sites. The film will also shortly overtake Something Borrowed's $3.3m (£2m) result to become Greenfield's best-ever UK performer.
Also for Fox, How to Train Your Dragon 2 flew to a further $711,000 (£427,571) for $39.3m (£23.6m), while Dawn of the Planet of the Apes reached $53.1m (£32m) with a $591,000 (£355,680) seventh weekend.
ENTERTAINMENT
The Inbetweeners 2 has become the third 2014 release, following Dawn of the Planet of the Apes and The Lego Movie, to cross the £30m mark in the UK.
Entertainment's comedy sequel enjoyed a $2.2m (£1.3m) fourth weekend and has now amassed a strong $51.5m (£31m).
DISNEY
Guardians of the Galaxy fell just 19% in its fifth weekend as it took a further $1.7m (£1.02m).
Disney's latest Marvel Studios outing now stands at $40.7m (£24.5m) and will shortly cross the £25m mark in the UK. It has a very slight chance of hitting £30m but even if it doesn't, it's had a superb run.
Also for Disney, Planes 2: Fire & Rescue dropped a slim 21% in its fourth weekend of nationwide release to take $406,000 (£244,000) for a tally of $6.8m (£4.1m).
Based on real life drama Million Dollar Arm failed to hit a home run on its UK opening, taking a soft $249,000 (£150,000) from its 235 sites.
It at least avoided being director Craig Gillespie's lowest-ever UK bow, but Lars and the Real Girl's $131,000 (£78,846) came from just 25 sites. Million Dollar Arm may even struggle to match that film's $745,000 (£448,339) result.
LIONSGATE
Having opened in two West End cinemas last weekend, Lionsgate's Sin City: A Dame to Kill For expanded nationwide for a tally of $1.8m (£1.1m), including $1m (£612,611) in previews, from its 441 sites.
That's less than half the $4.1m (£2.5m) bow of Sin City from 395 sites, which included $603,000 (£363,000) in previews. The film went on to take $11.8m (£7.1m) in the UK, a tally that the sequel will be unlikely to come close to.
Also for Lionsgate, The Expendables 3 added $275,000 (£165,592) for $6.2m (£3.7m) after three weeks in play.
WARNER BROS
R.J. Cutler's adaptation of Gayle Forman's novel If I Stay started its UK run with $839,000 (£505,000) from its 335 sites through Warner Bros. Unless it prospers mid-week, it could struggle for a long run in an increasingly busy market.
Also for Warner Bros, Into the Storm fell almost 50% (excluding previews) in its second weekend to whip up $620,000 (£373,000) for $3.8m (£2.3m) to date.
SONY
Dropping over 60% (excluding previews) in its second weekend, Sony's Deliver Us from Evil took $234,000 (£140,775) from its 233 sites for $1.9m (£1.15m). It will end its run as director Scott Derrickson's lowest-ever UK grosser.
ARTIFICIAL EYE
As expected, Two Days, One Night is now the Dardenne brothers' best-ever UK performer, after a non-final $189,000 (£113,614) second weekend saw it climb to $787,000 (£473,337) through Artificial Eye.
EONE
Falling a hefty 72% in its second weekend, eOne's What If added $156,000 (£94,000) for $1.8m (£1.1m) to date.
Also for eOne, The Grand Seduction opened on 55 sites (mostly in Ireland) for a modest UK debut of $68,000 (£41,000).
METRODOME
Landing in 33 sites through Metrodome, The Guvnors posted a UK opening of $76,000 (£45,696), including previews.
Meanwhile, God Help the Girl added $2,500 (£1,478) from its four sites for $215,000 (£129,688) after two weeks in play.
KOCH MEDIA
Playing on split shows in most of its 31 sites, Koch Media's Obvious Child recorded a UK bow of $70,000 (£42,022) which included previews of just over $3,300 (£2,000).
UPCOMING RELEASES
This week sees saturation releases for Sony's Sex Tape (opens Sept 3), StudioCanal's Before I Go to Sleep and eOne's The Hundred-Foot Journey.
Icon's Film4 FrightFest opener The Guest receives a wide release, while Curzon Film World's Life of Crime, Dogwoof's Finding Fela and Lionsgate's They Came Together are among the films receiving a limited release.