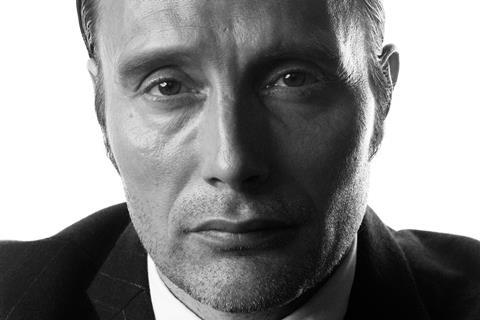 Mads Mikkelsen admits he's had a "surreal" lockdown.
The Danish star of Hannibal, Doctor Strange and upcoming Another Round has worked on a Hollywood film from home, had his latest film selected for a virtual Cannes, and will now accept an honorary career award more than 1,000 miles from the ceremony.
But, speaking from his home in Copenhagen where he has spent most of lockdown, the award-winning actor told Screen how "incredibly proud" he is to receive the Heart of Sarajevo award from the Sarajevo Film Festival.
"It's a short list of fantastic talent that has received this award [from Robert De Niro to Alejandro González Iñárritu] so I'm honoured to join that family," he says. "Even though we're in lockdown, I'll be proud to accept it online and cross our fingers that next year will look different".
It will honour a career that began with Nicolas Winding Refn's Pusher in 1996 and has seen the Copenhagen-born actor star in both big-budget and indie hits including James Bond hit Casino Royale, acclaimed Star Wars feature Rogue One and Thomas Vinterberg's The Hunt, for which Mikkelsen received the best actor prize at Cannes.
It would have also marked a long-awaited return to Sarajevo for Mikkelsen, who has not previously attended the festival but did visit the Eastern European city while travelling as a teenager in the mid-1980s.
"I wanted to return and refresh my memory," he said. "But festivals are for people to meet, watch each other's films and socialise and obviously we can't do that this year. It's not only Sarajevo, of course, but Cannes and numerous others."
'Another Round'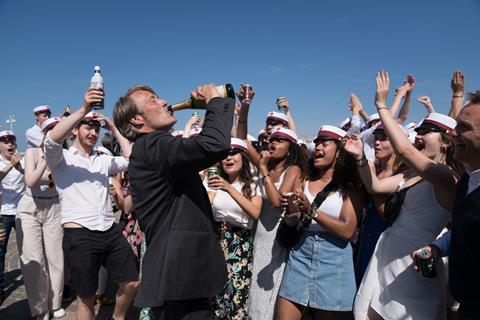 Mikkelsen would have also returned to Cannes this year, if the festival hadn't been cancelled due to the Covid-19 pandemic, to premiere his most recent feature with Vinterberg, Another Round.
The film did, however, receive a Cannes label, bestowed on 56 titles that would have been selected. "There are thousands of films out there that try to squeeze through every year," he says. "To be among those selected, it's a gigantic honour and the Cannes Label places us on the map as something to keep an eye on. It means the world to us."
In Another Round, Mikkelsen stars as one of four friends who test a theory that they will improve their lives by maintaining a constant level of alcohol in their blood.
While he insists that the drunk performances were not enhanced by actual drinking on set, he admits with a laugh that "among the four actors and directors, we have a lot of experience in drinking just a little too much".
"We actually did quite a few rehearsals," he adds more seriously, "trying different levels of alcohol and studying how it effected speech and movement, so we had a fairly good idea where we should place ourselves when we started filming."
The film has been selected to screen at Toronto and San Sebastian in September.
Lockdown
Mikkelsen counts himself lucky that he had no filming lined up this summer, when production has ground to a halt due to the virus crisis, and finished shooting his latest film with Danish director and regular collaborator Anders Thomas Jensen with moments to spare.
"We were super lucky," he recalls of wrapping Zentropa-produced Retfærdighedens Ryttere (translated as Riders Of Justice). "We had our last three days of shooting in Spain, of all places, and had literally just got out of there when they locked down."
However, Mikkelsen has shot the latest in a series of commercials for Carlsberg over a couple of days during lockdown and was recently impressed by how he could record ADR for upcoming Hollywood feature Chaos Walking from a studio in Copenhagen.
"I drove for five minutes to a nearby studio, spoke to someone in LA and did my work," he says. "We couldn't have done that even 10 years ago so that's very cool."
The film, a dystopian sci-fi directed by Doug Liman (Edge Of Tomorrow) and starring Tom Holland and Daisy Ridley, will be released by Lionsgate in 2021.
Desire to resurrect 'Hannibal'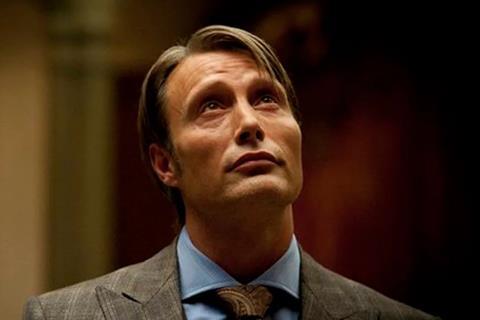 As for future projects, Mikkelsen was set to begin work on a project this autumn which remains under wraps. "It's a secret thing and people don't want to jinx it by talking about it," he says. "We don't want to start pre-production and shoot for a couple of weeks only for things to close down but everyone is optimistic at this point."
One role he would be keen to reprise is that of Dr Hannibal Lecter, which he played for three seasons in NBC psychological thriller series Hannibal. Cancelled in 2015, Mikkelsen is hungry to go one more season, if picked up by another network or platform.
"It was such a unique experience that I'm crossing my fingers it will be picked up again and we can shoot a fourth season to close it all off," he says. "I would be very interested to wrap it up somehow. There was still story that we were looking forward to tell and could be set five years later for those characters."
In the meantime, he is preparing to deliver a masterclass to young actors and upcoming filmmakers close to the end of this year's Sarajevo Film Festival. Previewing some of his advice, accumulated over 25 years in the business, he says: "Starting out on smaller budget stuff is important - a place where you can be the boss of what you do.
"That way, whatever you do, that was your making and you can't blame it on others. Then you can look and learn from it. If you start on a big budget project, you'll probably be frustrated and not have as much experience as someone who has found their way through the jungle."