Terminator Genisys tops chart ahead of release.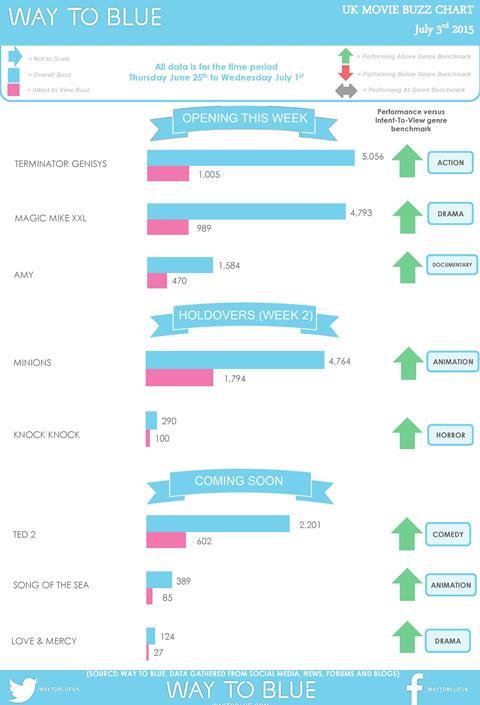 Magic Mike XXL has been heating up social media ahead of its UK release this weekend.
But it could not quite match the might of Terminator Genisys, according to social data analyst Way To Blue.
The latest in the Terminator franchise generated more than 5,000 mentions across social media, news, forums and blogs from June 25 to July 1 as Arnold Schwarzenegger and Emelia Clarke hit the publicity trail.
Of those comments, 20% expressed intent to view, meaning they would look to convert tweets into tickets.
Male stripper sequel Magic Mike XXL drew nearly 4,800 mentions (20.6% ItV) ahead of its release in the UK this weekend.
Amy Winehouse documentary Amy, directed by Asif Kapadia, generated close to 1,600 comments (30% ItV).
Still generating attention after a week on release was animation Minions, which managed nearly 4,800 mentions and a strong intent to view of 38%, suggesting the Despicable Me spin-off will continue to generate strong box office.
Upcoming comedy sequel Ted 2 just topped 2,200 comments (27% ItV) ahead of its UK release on July 10.