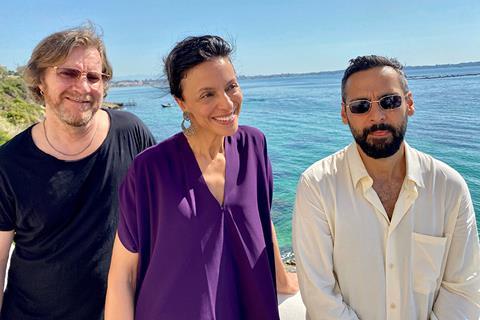 Swedish writer/director Sarah Gyllenstierna will make her feature film debut with the suspenseful drama Hunters On A White Field.
Adapted from a novel by Mats Wägeus, the story is about three friends who spend a long weekend in a remote cabin, intending to hunt deep in the Swedish woods. An initial spell of hunting success sharpens their instincts and stirs a sense of rivalry. However, one day all animals vanish without a trace and the forest turns eerily quiet. Yet the men are determined to continue the hunt.
The three leads will be Magnus Krepper (Margarete – Queen of the North), Ardalan Esmaili (The Rain) and Jens Hultén (Skyfall).
Maria L Guerpillon and Charlotte Most produce for MostAlice Film AB in co-production with Film i Väst, SVT and with support from Swedish Film Institute's Moving Sweden initiative.
The film will shoot in the woods outside Trollhättan in west Sweden, and have its cinema release in 2023.
Other projects
The film was unveiled at the Film i Väst event in Cannes on Friday. Other new projects on the Film I Vast slate include The Hypnosis, the debut feature of Ernst De Geer to star Asta Kamma August and Herbert Nordrum. Mimmi Spång produces for Garagefilm International and Totem Films handles sales.
Kalak by Isabella Eklöf (director of holiday and co-writer of Border) will shoot in Greenland and will be produced by Maria Møller Kjeldgaard. That story is about a family man and nurse who is confronting his childhood abuse.
Together 99 by Lukas Moodysson will shoot in late summer and is lead produced by Lars Jönsson of Memfis Film and sold by REinvent.
Film i Väst CEO Mikael Fellenius also unveiled a large-scale investment in virtual production in Studio Fares in Trollhättan – the first in the Nordic Region. The project is made in collaboration with Igelkott Studios.
Film I Vast, Scandinavia's leading film fund, is celebrating its 30th anniversary and also has a record crop of co-productions at Cannes 2022 including Triangle Of Sadness, Sick Of Myself, Boy From Heaven, Holy Spider, R.M.N. and Godland.