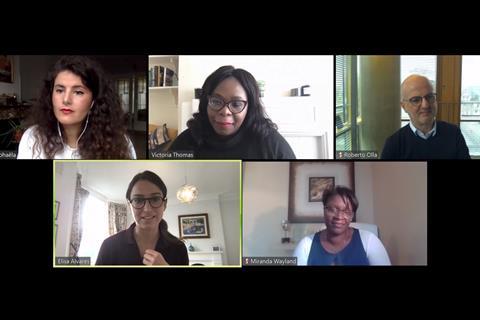 Film festivals and production labs should be held accountable for the diverse talent they champion, according to a panel of industry experts at International Film Festival Rotterdam (IFFR).
Speaking virtually during the online-only event, Roberto Olla, executive director of European co-production fund Eurimages, said: "Festivals and markets, where financiers, producers and talent get together to make the future of film, should be kept accountable. The difficulty is how you do that."
He highlighted the work Eurimages has actioned addressing gender equality in film and how discussion alone might not be sufficient but was "a good start".
"The elephant in the room is that we all take for granted that "whiteness" is the norm. Only by breaking that norm – that is not actually a norm – can we realise there is a lot of work to be done… and festivals, especially those that are publicly funded, have a responsibility and should be dealing with this."
Filmmaker Victoria Thomas of UK outfit Polkadot Factory, who also moderated the session, highlighted the importance of festivals – and the message they send – to financiers.
"Festivals and labs tend to be a signalling point for financiers," she said. "So a lot of filmmakers spend a lot of our time just trying to get onto a list, scheme, lab or festival just so we can be taken seriously because these institutions are the signposts for a lot of different places."
Responding to this, financier Elisa Alvares said: "When you go to the international marketplace, buyers are very resistant to film and TV that doesn't fit a certain mould. This is where I see the role of festivals because they can open doors and when those distributors realise that, actually, there is an audience… that is a very important channel towards opening the marketplace."
Aruban-Dutch documentary director Shamira Raphaëla then stepped in and said: "This is always a part of the discussion that frustrates me. The remark, from financiers, that "my audience" isn't interested in this or doesn't want to see this.
"Then I think, who is this audience? It's a crazy idea to think that the audience consists of white, male, upper-middle class people. There's a whole world out there of people, of different ethnicities, different classes. Why are they not the audience? I think this is a 'mind switch' that financiers should make."
She added: "I also think inclusion is that people of colour can tell stories about things that aren't about people of colour."
"That is exactly the premise that we're trying to head towards," said Miranda Wayland, head of creative diversity at the BBC. "You don't want to be pigeonholed or ghettoised into only reflecting what you're perceived to be good at."
The BBC announced a stimulus package in June 2020 to address diversity issues, investing £112m across its entire commissioning budget to "open up the doors, provide financial support and encourage programme makers who perhaps hadn't thought of the BBC as a natural home for them".
Looking to the future, Wayland added: "As an audience member, I'd love to see a day where we have a whole plethora of content that stops me looking at it and thinking, 'How diverse are the people in this show?'. As a practitioner, I'd love to get to a point where organically, it's intrinsic in the fabric of what we do."