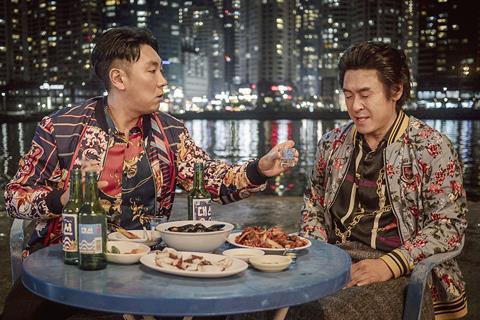 Showbox has announced a raft of sales on comedy drama Man Of Men.
The film has sold to the US and Canada (Dreamwest Pictures USA), Australia and New Zealand (JBG Pictures), Taiwan (Movie Cloud), Singapore (Shaw), Indonesia (Falcon), Philippines (MVP Viva), Vietnam (Live On) and worldwide in-flight (Kairos).
The feature debut of director Yong Soo, Man Of Men stars Sul Kyung-gu (Memoir Of A Murderer) and Cho Jin-woong (The Spy Gone North). The film, which opened in local cinemas on October 2, follows Jang-su (Sul), a terminally ill man who was once a lawyer infamous for taking any case for money.
When he encounters Young-ki (Cho), a low-life gangster doing court-ordered community service, he asks him to help him complete his bucket list in return for a large portion of his life insurance money. The gangster accepts the offer, but the job leads them to unexpected consequences.