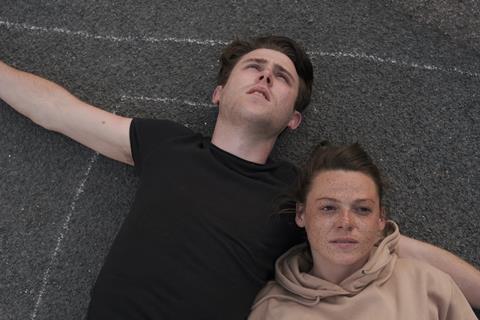 Bulldog Film Distribution has acquired UK-Ireland distribution rights to Love Without Walls, Jane Gull's music drama about a couple living on the streets.
The film had its world premiere at Manchester Film Festival this month, where it won best UK feature. Bulldog has set a theatrical release for June 9 this summer, including a series of Q&A events with Gull and lead cast Niall McNamee and Shana Swash.
Love Without Walls follows an aspiring musician and his partner who, unable to pay their London rent, find themselves living on the streets. Though frustrated, their good humour and positivity land them odds jobs and a temporary shelter.
The film is produced by Karen Newman for Hidden Door Productions; Newman previously produced 2017 Edinburgh International Film Festival audience award winner Just Charlie. 2022 Screen Star of Tomorrow Susanne Salavati is cinematographer on Love Without Walls; while McNamee, who is also a singer-songwriter, provided a soundtrack of original music.
Love Without Walls is a second feature for UK director Gull, who previously made My Feral Heart, which received three Bifa nominations in 2016.
Philip Hoile, head of acquisitions and distribution at Bulldog Film Distribution, described the film as "full of heart" and highlighting "just how precarious the apparent stability of life can be in the current climate."
Homelessness has risen in the UK since the pandemic, with figures from charity Shelter indicating an 11% rise in the three months between January and March 2022, which was a 5% rise on the same period the year before.