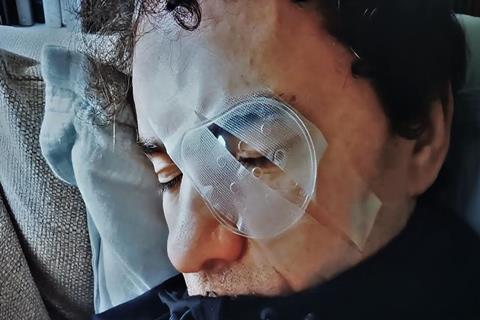 Swiss documentary festival Visions de Réel has revealed the industry projects that will be pitched and presented at its 2021 edition, including new features from UK director Mark Cousins and Oscar-nominated US filmmaker Elaine McMillion Sheldon.
In total, 29 projects will participate across the VdR-Pitching, VdR-Work in Progress and VdR-Rough Cut Lab. Industry activity will take place from April 14-22 both online and physically in Nyon, subject to pandemic restrictions.
Full list of projects below
The work in progress strand will include the latest feature from UK documentary maker Cousins, who received the innovative storytelling prize at the European Film Award in December for his 14-hour epic Women Make Film: A New Road Movie Through Cinema.
His latest film, The Story Of Looking, is inspired by his book of the same name. Facing the threat of losing his sight, Cousins embarks on an intimate journey from his bed to explore the central role of looking in his own life, as well as the history of the human gaze. Producers are Mary Bell, Adam Dawtrey for Bofa Productions.
Also set to be showcased as a work in progress is Another Spring from Serbia's Mladen Kovacevic, whose Merry Christmas, Yiwu won best documentary at Sarajevo Film Festival in 2020. His latest is a timely look at the eradication of smallpox and is produced by Iva Plemić Divjak of Horopter Film Production.
VdR-Pitching, the platform's co-production and financing forum, will feature 16 titles including King Coal by McMillion Sheldon, who was Oscar-nominated in 2018 with Netflix short Heroin(e). Her upcoming feature explores how coal is imbued in the identity of people in North America's Appalachians. Producer is Cottage M's Shane Boris, who was Oscar-nominated for his work on Petra Costa's The Edge Of Democracy.
Also set to be pitched is Life After Siham from French filmmaker Namir Abdel Messeh, whose light-hearted documentary The Virgin, The Copts And Me played in Panorama at the Berlinale in 2012.
Messeh's latest focusses on the death of his mother and how he uses cinema to revive her memory. Producer is Camille Laemlé for Les Films d'ici, whose credits include Gianfranco Rosi's Berlinale Golden Bear winner Fire At Sea and Rosi's recent Venice award-winner Notturno.
Further notable titles include Facing Darkness by France's Jean-Gabriel Périot, whose Our Defeats won the CICAE Award at the 2019 Berlinale; The Vanishing by Senegal's Rama Thiaw, who won the Fipresci prize at the 2016 Berlinale with The Revolution Won't Be Televised; and The Wolves Always Come At Night by Australia's Gabrielle Brady, whose Island Of The Hungry Ghosts won best documentary at Tribeca in 2018.
New cash prizes
A total of 527 submissions were narrowed down to the 29 projects, which include 35 filmmakers from 32 countries. There is a near 50-50 gender split, with 17 female directors and 18 male filmmakers.
Three new cash prizes have also been introduced this year, including the VdR-Pitching Award and VdR-Work in Progress Award, both worth 5,000CHF ($5,400) and each given to the "most promising project" in their respective strands. Also new this year is the Lightdox Award for the project with the most international potential, also worth 5,000CHF ($5,400).
The international jury comprises Eurimages executive director Roberto Olla, Italian filmmaker Roberto Minervini and Lebanese curator/writer Rasha Salti.
The new awards will sit alongside existing prizes such as the Visions Sud Est Award – worth 10,000CHF ($10,800) – for the best project from Africa, Latin America, Asia or Eastern Europe (excluding EU members).
The upcoming edition will mark Madeline Robert's first year as head of industry at Visions de Reel, after Gundula Meinzolt stepped down in November after 10 years in the role to focus more on her work as a producer.
VdR-Industry projects 2021
VdR-Pitching
#Timesup Kyrgyzstan (Switz)
Dir: Leigh Labobucci
Pros: Veronique Vergari, Agnès Boutruche (Framevox Sàrl)
Aana (Swe)
Dirs: Anna Eborn, Oscar Hedin, Åsa Ekman
Pros: Oscar Hedin, Marina-Evelina Cracana (Film and Tell)
But Dear Lord Why? (Geo)
Dir: Rati Tsiteladze
Pros: Nino Varsimashvili, Olga Slusareva (ArtWay Film)
Egypt, A Love Song (Isr-US)
Dir: Iris Zaki
Pro: Asaf Galay (Galay Productions)
Facing Darkness (Fr-Bos & Her)
Dir: Jean-Gabriel Périot
Pro: Cécile Lestrade (Alter ego production)
King Coal (US)
Dir: Elaine McMillion Sheldon
Pro: Shane Boris (Cottage M)
Life After Siham (Fr)
Dir: Namir Abdel Messeh
Pro: Camille Laemlé (Les Films d'ici)
Looking For The Words (Col)
Dir: Joel Stängle
Pro: Carolina Campos (mnemo.cinema.lab)
Malqueridas (Chile)
Dir: Tana Gilbert
Pro: Paola Castillo (Errante)
Our Money (Switz)
Dir: Hercli Bundi
Pro: Susanne Guggenberger (Mira Film)
Science Fiction (Arg)
Dir: Ezequiel Yanco
Pros: Ana Godoy, Ezequiel Yanco (Isoi Cine)
The Last Year Of Darkness (China-US)
Dir: Ben Mullinkosson
Pro: Sol Ye (Mutual Friends Films)
The Prince Of Nanawa (Arg-Par)
Dir: Clarisa Navas
Pro: Eugenia Campos Guevara (Gentil)
The Vanishing (Sen-Fr)
Dir: Rama Thiaw
Pros: Hortense Maunoury (Boul Fallé Images), Jean-Laurent Csinidis (Films de Force Majeure)
The Wolves Always Come At Night (Ger-Australia-Mong)
Dir: Gabrielle Brady
Pro: Julia Niethammer (Chromosom Film)
Yoga Village (China)
Dir: Rongfei Guo
Pro: Wenxin Zhong (Shanghai Jiemian CLS Technologies)
VdR-Work in Progress
About Everything There Is To Know (Peru)
Dir: Sofía Velázquez
Pro: Carolina Denegri (Cultural Mercado Central)
Another Spring (Ser)
Dir: Mladen Kovačević
Pro: Iva Plemić Divjak (Horopter Film Production)
Blue Island (HK-Jap)
Dir: Tze Woon Chan
Pro: Catherine Chan, Peter Yam (Blue Island Production Company Limited)
Flickering Lights (India)
Dirs: Anupama Srinivasan, Anirban Dutta
Pro: Anirban Dutta (Metamorphosis Film Junction)
The Home (S Afr-US)
Dirs: Jessie Zinn, Chase Musslewhite
Pro: Jessie Zinn (Red Coat Films)
The Story Of Looking (UK)
Dir: Mark Cousins
Pro: Mary Bell, Adam Dawtrey (Bofa Productions)
Transfariana (Fr)
Dir: Joris Lachaise
Pro: Line Peyron (Mujo)
Under Open Skies (Switz)
Dir: Charlie Petersmann
Pro: Stephanie Argerich (mnemosyn films)
We, Students! (Central African Republic-Fr-DR Congo)
Dir: Rafiki Fariala
Pro: Daniele Incalcaterra (Makongo Films)
VdR-Rough Cut Lab
I Will Be There Every Single Night (Bra)
Dirs: Tati Franklin, Suellen Vasconcelos
Pro: Thiago Moulin Pai (Grande Filmes)
Silent Beauty (US-Mex)
Dir Jasmin Lopez
Pro: Jasmin Lopez (Corazon Oscuro Productions)
Silent House (Iran, Phil)
Dirs: Farnaz Jurabchian, Mohammadreza Jurabchian
Pros: Elaheh Nobakht (Eli Image), Jewel Maranan (Cinema Is Incomplete)
Taamaden (Fr-Came-Bel-S Afr)
Dir: Seydou Cissé
Pros: Eugénie Michel Villette (Les Films du Bilboquet), Dieudonné Alaka (Tara Group)