French festival FIDMarseille, known for its focus on experimental, boundary-pushing work spanning both documentary and fiction, has unveiled the selection of projects due to be presented at the 10th edition of its project development event.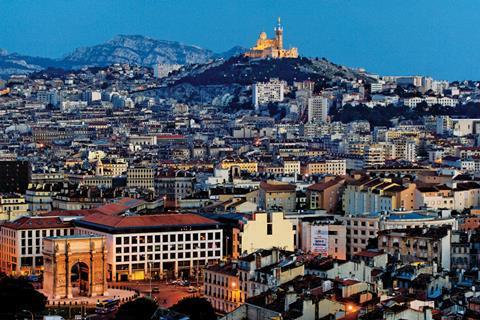 Running July 12-13, the FIDLab will feature 12 projects, selected out of 322 submissions.
They includeThe River, the latest film from Lebanese filmmaker Ghassan Salhab after his well-travelled, awarding-winning dramas The Valley and The Mountain.
It revolves around a younger woman and older man whose lunch in a mountain restaurant is disrupted by fighter planes overhead, pushing them out into nature and revealing the complexity of their relationship as the day declines.
Austrian director Georg Tiller will attend with his hybrid project City Of Falls about a "moony waitress and a shy croupier who fall in love while reenacting the War of 1812 for tourists at Niagara Falls."
French filmmaker Nicolas Peduzzi will unveil Roller Coaster, following the woman living on the fringes of society in the southern United States dealing with the consequences of a devastating hurricane.
Peduzzi's last work Southern Belle, about the troubled daughter of a late oil tycoon, won the Grand Prix in FID Marseille's French competition last year.
US director Bill Morrison will bring his new work The Village Detective exploring the life and times of Soviet actor, Mikhail Zharov.
The lab will dole out eight prizes offering different types of development and post-production support. This year's jury comprises French-Belgian art curator Chantal Crousel, the Doha Film Institute's head of grants Khalil Benkarine and French producer Arnaud Dommerc, who operates under the Andolfi banner.
Over its ten-year history, the lab has supported a number of award-winning documentary and fiction features, including most recently Clement Cogitore's Braguino, Narimane Mari's La Fort des Fous and Basma Alsharif's Ouroboros.
The FIDLab 2018 SELECTION
The River - Ghassan Salhab (Leb, Fr)
A Treatise On Limnology - Dane Komljen, James Lattimer (Ger, Sp)
Ceuta's Gate - Randa Maroufi (Fr, Morocco, Qatar)
City of Falls - Georg Tiller (Austria)
For Spring - Marine Hugonnier (Austria)
Inside Guillaume - Assaf Gruber (Ger)
Pacú Boy - Manuela Gamboa (Arg)
Roller Coaster - Nicolas Peduzzi (Fr)
Sebastiano Blu - Pauline Curnier Jardin (UK)
Intentional Sweat - Chrystèle Nicot (Fr)
The Village Detective - Bill Morrison (US)
Tremor Iê - Lívia de Paiva, Elena Meirelles (Br)