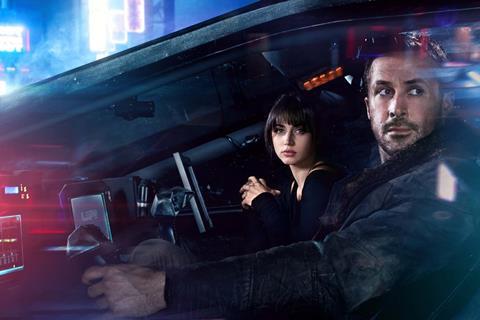 Warner Bros, Sony Pictures and Alcon Entertainment will scale back Tuesday night's world premiere of Blade Runner 2049 and Open Road has cancelled Monday night's planned red carpet premiere of Marshall following the shooting massacre at a Las Vegas music festival.
"On this day of national mourning, we have decided to cancel tonight's scheduled red carpet premiere of Marshall," Open Road spokesperson said in a statement ahead of the Los Angeles screening.
"Instead, tonight's event will be a private screening of the film for the cast, filmmakers and invited guests. Our thoughts are with the victims of the tragedy in Las Vegas, their families and all of those affected."
At least 59 people are understood to have died and more than 500 injured after reports said 64-year-old Nevada resident Stephen Paddock fired upon nearby music festival-goers from a hotel room in the deadliest shooting on US soil in modern history.
It is understood Paddock began firing from a room on the 32nd floor of the Mandalay Bay Hotel on Sunday night, targeting attendees at an open-air music festival on a large lot across the Las Vegas Strip. According to reports there were around 22,000 people enjoying Jason Aldean perform on the final day of the three-day Route 91 country music festival.
Authorities said Paddock, a former accountant with no criminal record who liked to gamble and lived in a retirement community in the town of Mesquite near Las Vegas, turned the gun on himself when police broke into the room. There they found a stockpile of guns and, later, discovered more guns and ammunition at Paddock's home. Investigators were continuing to search for a motive as Monday drew to a close.
Nevada gun laws are among the least restrictive in the US and the state does not require people carrying weapons to register themselves as an owner. Background checks take place for transactions, and private gun sales are allowed.
Chadwick Boseman stars in Marshall, the biopic of the first African-American Supreme Court judge, Thurgood Marshall. The film will open on October 13.
Separately, CBS confirmed it fired an executive on Monday who had posted on Facebook that she was unsympathetic to the plight of the victims because "country music fans often are Republican gun toters." The post was removed.
"This individual, who was with us for approximately one year, violated the standards of our company and is no longer an employee of CBS," a CBS spokesperson said. "Her views as expressed on social media are deeply unacceptable to all of us at CBS. Our hearts go out to the victims in Las Vegas and their families."