Kevin Feige presided over a boisterous Marvel Studios panel that brought new trailers from Doctor Strange and Guardians Of The Galaxy Vol 2, as well as footage from the sets of Spider-Man: Homecoming and Thor: Ragnarok.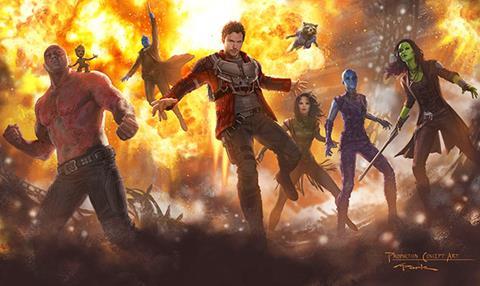 At San Diego Comic-Con this weekend, Marvel studio president Kevin Feige unveiled a new company logo and introduced Chadwick Boseman and his fellow Black Panther cast members alongside director Ryan Coogler ahead of an early 2017 production start.
While that project is expected to strike a blow for diversity at a point in modern history that could not seem timelier, Marvel referenced another welcome development when Feige brought its Captain Marvel star Brie Larson on to the stage for a group shot.
That was the final act of the presentation and nothing more was revealed about Marvel's first female-led superhero adaptation, which will open in theatres on March 8, 2019. Warner Bros has stolen a march in the gender wars, however, and will release Wonder Woman on June 2, 2017.
Black Panther cast takes to the stage
A brief but well received Black Panther segment kicked off the show, although the crowd did not learn much beyond what they would have seen in the character's introduction in Captain America: Civil War.
Coogler, surrounded by Boseman, Lupita Nyong'o, Michael B Jordan and Danai Gurira, promised the crowd he would take their energy, store it up and work hard.
The film is scheduled to open on February 16, 2018.
A journey to the astral plane
One of the highlights of the show came during what is by now a fairly common sight in Hall H but one that never fails to drive the audience to near hysteria.
As the curtains drew back to reveal wrap-around screens that nearly covered three-quarters of the walls it became clear amid the cascades of dry ice and esoteric on-screen script that this was the segment for Doctor Strange.
Hall H favourite Benedict Cumberbatch walked on and stood next to director Scott Derrickson, Tilda Swinton, Rachel McAdams, Chiwetel Ejiofor, Mads Mikklesen and Benedict Wong.
"It's the story of a man who realises he doesn't have anything," Cumberbatch said of a character he described as "very, very different to anything I have done before. It's been a joy."
Feige cued up a footage and debuted a new, second, trailer. The material showed Stephen Strange, a brilliant surgeon whose career lies in tatters after he sustains injuries to his hands, on a quest for insight.
He undergoes training at the hands of a sage called The Ancient One who shows Strange the astral plane. Strange emerges later in the sequence wearing the familiar red cape and wields incredible power while Mikkelsen's malign Kaecilius goes on the rampage.
Cumberbatch and Wong in particular – who said he had told Feige he wasn't comfortable playing the tea-maker and will in fact be more of "a drill sergeant" when the film is ready – appeared shaken and excited by the footage.
In a possible reference to recent claims that Marvel Studios had 'whitewashed' her character – who is portrayed in the comics as an Asian man – Swinton weighed in.
"Any one of us could be The Ancient One – that's the amazing thing about what's originally in the comics… it's all about what's inside so it's super, super hippie stuff." Doctor Strange opens on November 4.
Spidey footage swings into Hall H
As Feige was wrapping up that segment he was interrupted by the voice of Tom Holland as the house went to black again and the Spider-Man: Homecoming star bounded on stage with director Jon Watts.
"It's a high school movie about a 15-year-old kid," Watts said. "I always described this as the ground level of the Marvel universe."
Picking up on a reference to John Hughes films, the director continued: "Wouldn't it be terrible if you were Spiderman and you wanted to tell everybody but you couldn't. I wanted to capture the spirit of those movies."
Watts only begun shooting ten days ago but brought first footage of Parker in class acting like a preoccupied, hormonal teenager.
The sequence then changed gear to show parker bursting out of class and preparing to swing into action. A final image of the Vulture crashing into view brought raucous cheers of approval from the crowd. The Marvel Studios-Columbia Pictures co-production is scheduled to open on July 7, 2017.
Comic-Con hooked on a familiar feeling
Once again the lights went down as actors playing the uncouth Ravagers tore through the hall and took to the stage for a brief comedy routine before making way for the main cast of Guardians Of The Galaxy Vol. 2.
Director James Gunn recently wrapped shooting and was in exuberant form as he talked up the sequel (concept art, pictured).
Gunn and Chris Pratt were joined by Zoe Saldana, Michael Rooker in costume and blue make-up as Yondu, Dave Bautista, Karen Gillen, and new cast members Pom Klementieff (who plays the alien, Mantis), and Elizabeth Debicki (the leader of a race known as the Sovereigns).
Kurt Russell also joined the group and while he could not say much about his character, Gunn showed footage in which Russell announces himself to Star-Lord as his father, Ego. Sylvester Stallone appeared on-screen briefly, confirming rumours of his involvement even though nobody elaborated on his role.
Another piece of film showed a scene in which Yondu instructs Baby Groot to steal his yaka arrow from the sleeping Ravagers in order to carry out a devastating, lethal escape.
Feige announced that Guardians Of The Galaxy has become the latest Disney property to make its way to the highly lucrative theme parks. Mission: Breakout! will open in Disneyland California Adventure Park in 2017.
A place for Mjolnir to call home
Earlier in the presentation Feige treated the audience to a slice of Thor: Ragnarok. Tom Hiddleston had been in Hall H earlier in the day to present Kong: Skull Island and did not reappear, however the Marvel Studios chief introduced a short mockumentary by director Taika Watiti, who is currently shooting the third episode in the Norse god franchise on Australia's Gold Coast.
The short was classic Marvel Studios: fresh, unexpected and tongue-in-cheek. Hemsworth portrays Thor slumming it with a flatmate while he tries to fathom why he was not in Captain America: Civil War.
Thor visits his flatmate's office and dictates emails to Tony Stark and Steve Rogers. He also conducts a brief tour of his room, where his hammer Mjolnir has its own bed and blanket fashioned out of a drawer.
Then Feige cued up the real deal. Early footage from Australia showed Thor and Hulk clashing and a number of new giant adversaries. New cast includes Karl Urban, Cate Blanchett, Jeff Goldblum and Tessa Thompson. Thor: Ragnarok is scheduled to open on November 3, 2017.