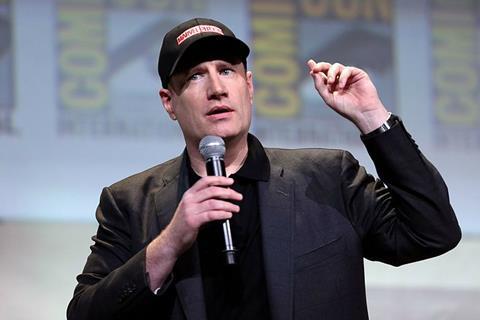 Marvel Studios chief Kevin Feige will receive the Producers Guild of America's (PGA) 2019 David O. Selznick Achievement Award in an announcement that kicks off what Disney executives hope will be a noisy awards season for Black Panther.
Feige will collect the honour in recognition of his body of work in film at the 30th Annual Producers Guild Awards on January 19, 2019, at the Beverly Hilton hotel in Los Angeles.
Feige has been president of Marvel Studios since 2007 and served as producer on every one of its 20 releases to date, most recently on global smash Black Panther and Ant-Man And The Wasp. Every release has opened at number one in North America and to date the films have amassed more than $17.6bn at the global box office.
Under his stewardship Marvel Studios continues to champion diversity with the upcoming Captain Marvel starring Brie Larson, as well as other films built on storylines around strong female characters such as Black Widow.
"Kevin Feige set for himself one of the most ambitious tasks ever attempted in cinematic storytelling, and then over-delivered on it," said PGA presidents Gail Berman and Lucy Fisher. "What Kevin has accomplished with Marvel Studios is one of the great success stories of this generation.
"And now, with 'Black Panther' and the upcoming 'Captain Marvel,' Kevin has broadened our entire industry's expectations for what tentpole movies look like – in front of the camera, behind the camera and in the audience. We're honored that he's accepted the PGA's David O. Selznick Award."
"To join so many of my heroes and mentors in receiving the David O. Selznick Award is one of the most meaningful experiences of my career, and I'm truly thankful to my colleagues in the Producers Guild of America for this recognition," said Feige. "I want to also thank my Marvel Studios family, who have been with me every step of the way and without whom I would never have had this amazing journey."
Charles Roven received the 2018 David O. Selznick Award. Previous recipients include David Heyman, Stanley Kramer, Billy Wilder, Clint Eastwood, Jerry Bruckheimer, Brian Grazer, Laura Ziskin, Kathleen Kennedy and Frank Marshall, Scott Rudin, and Steven Spielberg.
Feige has established an endowment at the University of Southern California's School of Cinematic Arts, his alma mater, to advance the craft of creative producing. He began his career working for Lauren Shuler Donner and Richard Donner at their Warner Bros–based production company, and earned his first producer credit on X-Men.