President Kevin Feige unleashed a volley of announcements at a breathless Hollywood presentation (October 28) including news of the studio's first black and female superhero leads.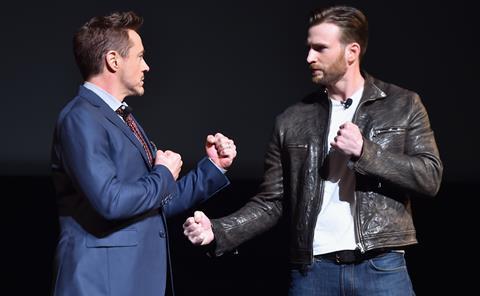 Over the course of one dazzling hour at Disney-owned El Capitan Theatre, Feige opened up the roadmap for Marvel Studios' Phase 3 with a string of dating and name revelations led by the final title of the third Captain America episode set for May 6 2016 – Captain America: Civil War.
That project marks the start of Phase 3 and had previously been known as Captain America: Serpent Society, a deflective tactic to hide the true nature of the project. Later in a private session with reporters, Feige remained equivocal as to whether the Serpent storyline would be revived at a later date.
Black Panther
Robert Downey Jr and Chris Evans took to the stage and sparred in jest as Chadwick Boseman from Get On Up and 42 joined them to promote his upcoming role as Black Panther.
Said superhero will get his own self-titled 3D film in the November 3 2017 slot that had hitherto been known only as 11/3/17 Marvel Untitled.
Avengers: Infinity War
Feige said the 3D Avengers: Infinity War Part I will arrive on May 4 2018 – revealing the final title of the project formerly known as 5/4/18 Marvel Untitled – while Part II will open on May 3 2019 in what will be Marvel Studios' 20th film.
Speaking of Infinity War, Feige said: "We have always had a plan from the moment Nick Fury broke into Tony Stark's house and told him he was part of a bigger universe." Part I, he said, would be "the beginning of the culmination of everything that has come before."
Captain Marvel
Solving the mystery of 7/6/18 Marvel Untitled, Feige revealed that Captain Marvel is set for July 6 2018 as a vehicle for the character Carol Danvers.
The studio chief also pulled back the covers on 11/2/18 Marvel Untitled, which is Inhumans, set for November 2 2018. "We really believe Inhumans can be a franchise or a series of franchises unto themselves," said Feige.
Guardians 2
Guardians Of The Galaxy writer-director James Gunn sent a video message from Tokyo, where he is serving on the festival jury, to say the 3D sequel to his summer hit had moved up from July 28 2017 to occupy the May 5 2017 slot formerly known as 5/5/17 Marvel Untitled.
Thor: Ragnorok will now open in the old Guardians 2 berth. Feige drew the loudest response of the session when he promised the 3D story would feature fan favorite Loki.
Ultron leak
Feige opened the session with the trailer for Avengers: Age Of Ultron in what doubtless had been planned as a surprise before last week's leak.
"Thanks to the people of Hydra," he said, "the good news is that 70m people have seen it."
The 3D Ultron release keeps its May 1 2015 slot.
New Avengers: Age of Ultron clip and trailer…
Ant-Man, Doctor Strange
Ant-Man, now in its 50th day of shooting, opens in 3D on July 17 2016 and marks the culmination of Marvel Studios' Phase 2.
Doctor Strange is 7/8/16 Marvel Untitled, although the film will now open in 3D on November 4 2016. The July 8 2016 slot has gone.
Feige did not confirm rumours that Benedict Cumberbatch is in talks to take the lead role as the Sorcerer Supreme in what he promised would be a story brimming with supernatural elements.
DC slate
In the separate session with the press, Feige denied that the day's slew of announcements was a reaction to Warner Bros' recent unveiling of the DC slate through 2020.
"We wanted to do this at Comic-Con and things weren't set," he said. "A few weeks before Comic-Con we realised we weren't able to do it and decided to do… a singular event."
For Feige's replies to press questions see accompanying blog.