The former Continental Media partners head to Cannes with a new venture that encompasses sales and marketing, led by sales titles Safelight and Sun Belt Express.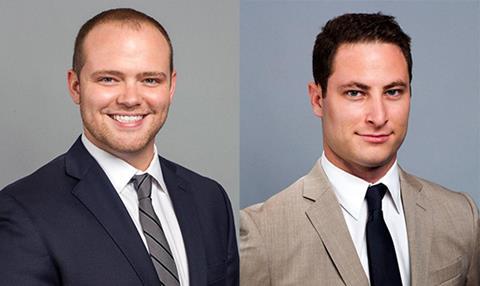 Concourse Media comprises sales division Concourse Film Trade and boutique marketing outfit The Industry & Co and is backed by private equity group MCG.
Safelight is a drama starring Juno Temple and Evan Peters and has sold to ARC Entertainment for a US day-and-date theatrical and digital release later this year.
Shreder (pictured at right) and Felts (pictured at left) have sold US and Latin American rights on the comedy Sun Belt Express starring Tate Donovan and Stephen Lang to MarVista Entertainment.
Further titles for the Cannes market and executive hires are expected to be announced in due course.
"All new media content should be conscious of an emerging worldwide status quo in the new digital age," said Felts and Shreder. "As global content circulation becomes more integrated than ever, we provide continuity across all the various touch points contributing to a film's success.

"With that, we feel we are in a great position to grow the company, establish a significant footprint in the domestic and international arenas and ultimately build a strong brand as we bring high quality commercial feature films to the marketplace."
Full service firm The Industry & Co will provide the marketing needs of every title Shreder and Felts acquire for sales.
The partners plan to launch a third division, Concourse Pictures, which will focus on the US distribution of two to four films a year.
Prior to Concourse Media, Shreder and Felts co-founded the sales company Continental Media, which handled sales on more than 20 titles over four years including the Christina Noble biopic Noble and the hip-hop documentary Shake The Dust.
Before that Shreder served in international sales and distribution division at IM Global and worked at Preferred Content, ICM and the Walt Disney Company in its Buena Vista Productions division in New York.
Felts previously served in the operations division for CBS Television Distribution and prior to that worked for Bonnie Curtis at Mockingbird Pictures.
Concourse Media is represented by Sheppard, Mullin, Richter & Hampton LLP.