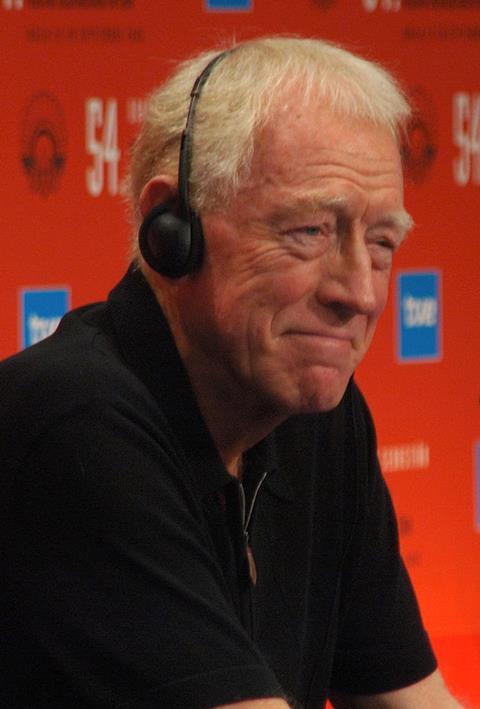 Swedish actor Max von Sydow, who featured in more than 100 films and TV series, has died aged 90.
His wife, Catherine von Sydow, announced "with a broken heart and infinite sadness" that the actor had died in France on Sunday (March 8).
Born Carl Adolf von Sydow in Sweden in 1929, he studied at Stockholm's Royal Dramatic Theatre (Dramaten) and made his screen debuts in Alf Sjöberg's Only A Mother (1949) and Miss Julie (1951).
It was in 1955 that he met director Ingmar Bergman, with whom he made 11 films including The Seventh Seal (1957), which included the iconic scene of his character playing chess with Death.
He transitioned to Hollywood in the 1960s, playing Jesus in George Steven's The Greatest Story Ever Told (1965) and appearing in John Huston's The Kremlin Letter (1970).
Working in the US, he secured two Golden Globe nominations for his performances in George Roy Hill's Hawaii (1966) and William Friedkin's seminal horror The Exorcist (1973), in which he played Father Merrin, memorably silhouetted on the film's poster in a shaft of light.
The 1980s saw a move into genre features including Flash Gordon (1980), Conan The Barbarian (1982) and David Lynch's Dune (1984) as well as more down-to-earth performances in the likes of Woody Allen's Hannah And Her Sisters (1986).
He also played villain Blofeld in James Bond film Never Say Never Again (1983), having previously turned down the title role of Dr. No (1962).
Von Sydow secured his first Oscar nomination in 1989 for his leading role in Bille August's Pelle The Conqueror. His second came in 2012 for a supporting role in Stephen Daldry's Extremely Loud & Incredibly Close.
He won the best actor award at the Venice film festival in 1982 for Flight Of The Eagle and was honoured with the Cannes' Festival Trophy in 2004.
Von Sydow remained prolific throughout the remainder of his life and career, playing memorable roles in Steven Spielberg's Minority Report (2002), Martin Scorsese's Shutter Island (2010) and Star Wars blockbuster The Force Awakens (2015).
He also featured as a key character in three episodes of HBO fantasy epic Game Of Thrones while one of his final roles was in Thomas Vinterberg's submarine drama Kursk, which debuted at Toronto in 2018.
He is survived by his wife Catherine and four sons.