Warner Bros' adaptation falls only 20% as it climbs up two places to dethrone Universal's Warcraft at number one.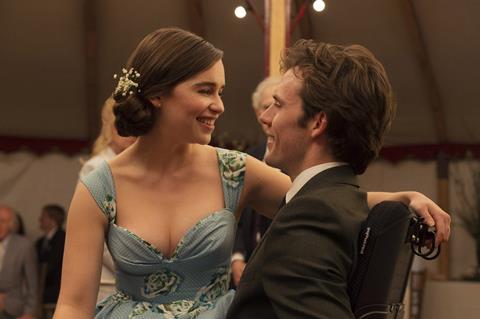 UK TOP FIVE
| Ranking | Film/Distributor | Weekend gross | Running total |
| --- | --- | --- | --- |
| 1 | Me Before You (WB) | $2.06m (£1.45m) | $6.4m (£4.48m) |
| 2 | Teenage Mutant Ninja Turtles: Out Of The Shadows (Paramount) | $1.19m (£840,615) | $6.8m (£4.8m) |
| 3 | Alice Through The Looking Glass (Disney) | $1.17m (£830,000) | $11.8m (£8.3m) |
| 4 | Warcraft: The Beginning (Universal) | $1.03m (£728,014) | $7.1m (£5.02m) |
| 5 | X-Men: Apocalypse (Fox) | $998,000 (£703,505) | $24.2m (£17.07m) |
WARNER BROS
After missing out on the top spot last week due to Warcraft's previews, Me Before You has taken over as the UK's number one.
Warner Bros' adaptation enjoyed a minimal drop of around 20% on its way to a $2.06m (£1.45m) second weekend for a sturdy $6.4m (£4.48m) after ten days in play.
Jojo Moyes' adaptation of her own novel will soon outgross all Nicholas Sparks' adaptations in the UK. The film has been top of the UK market every day since Friday June 3, except for Thursday June 9.
The film is proving to be increasingly savvy counter-programming from Warner Bros and the continued Euro 2016 football tournament should help Me Before You.
Today [June 13], Warner Bros unleashes The Conjuring 2 at cinemas nationwide which will give the horror sequel a seven-day opening.
EURO 2016 EFFECT
Last year's June 12-14 release window was boosted by the monster arrival of Jurassic World but outside of that, this year's period is actually stronger than 2015 across the rest of the top ten.
In 2015, Tomorrowland: A World Beyond's $173,000 (£121,847) was good enough for tenth spot, whereas this year it would have seen it chart 14th. It's a similar story with the top five where Pitch Perfect 2's fifth-placed $584,000 (£411,269) weekend would have seen it chart ninth.
Of course, there are mitigating factors in that most distributors would have avoided releasing against Jurassic World, so the coming weeks will give a clearer picture of how much the football is affecting box office.
Huge drops this past Friday [June 10] of more than 60% for the majority of the top ten except for Me Before You suggest that there could be softer weekends ahead, especially across night-time showings.
PARAMOUNT
Teenage Mutant Ninja Turtles: Out Of The Shadows narrowly held onto second spot with $1.19m (£840,615).
Paramount's sequel is now up to $6.8m (£4.8m), but will be unlikely to come close to its predecessor's $19.8m (£13.9m) final UK result.
DISNEY
Alice Through The Looking Glass boosted one place to third after a respectable 39% drop on its way to $1.17m (£830,000).
Disney's fantasy sequel is now up to $11.8m (£8.3m) after three weeks in play, and will hope to at least match Alice In Wonderland's $15m (£10.56m) opening by the end of its run.
Also for Disney, The Jungle Book fell only 29% with a $580,000 (£409,000) ninth weekend for a sensational $64m (£45.1m) to date.
Captain America: Civil War is now the third biggest film of the year ahead of Batman v Superman with $52.2m (£36.8m), while Zootropolis is up to $33.4m (£23.6m) after 12 weeks in play.
UNIVERSAL
Warcraft: The Beginning fell 50% (excluding previews) as it dropped to fourth with a $1.03m (£728,014) second weekend.
Universal's video game adaptation is now up to $7.1m (£5.02m) and will at least soon become Duncan Jones' best UK performer, currently Source Code's $8.5m (£6m).
Also for Universal, The Boss generated a so-so $837,000 (£589,768) UK debut from its 439 sites. It did manage to overtake the $669,000 (£471,429) bow of Ben Falcone's directorial debut, Tammy.
Bad Neighbours 2 has now partied to $9m (£6.35m) after six weeks in play.
FOX
X-Men: Apocalypse rounded off this week's top five with a non-final $998,000 (£703,505) fourth weekend.
Fox's latest X-Men offering is now up to $24.2m (£17.07m) and has overtaken X-Men Origins: Wolverine to become the fifth-highest-grossing outing of the series. The next target is X-Men: The Last Stand's $27.2m (£19.22m), which could be a struggle.
Also for Fox, Kung Fu Panda 3 stands at $19.9m (£14.03m).
ICON FILM DISTRIBUTION
Falling around 35%, Icon Film Distribution's The Nice Guys posted a $909,000 (£640,482) second weekend in the UK.
Shane Black's latest is now up to $3.2m (£2.23m) and, as expected, has overtaken Kiss Kiss Bang Bang's $2.4m (£1.71m) result, though that film received a smaller release.
SONY
Dropping an overall 32%, The Angry Birds Movie flew to a $823,000 (£580,000) fifth weekend.
Sony's animation was up week-on-week over Sat-Sun and has now catapulted to a decent $13.5m (£9.5m) to date. It should hit the £10m mark at some point during this coming weekend.
Also for Sony, Money Monster uncovered $255,000 (£180,000) for $3.4m (£2.4m) after three weeks in play, while Miracles From Heaven could only manage a soft $28,000 (£20,000) UK debut from its 100 sites.
LIONSGATE
Mother's Day was soft on its UK opening with $590,000 (£416,000) from its 401 sites, including $35,000 (£25,000) in previews.
That's considerably down on Garry Marshall's previous holiday-themed outings, Valentine's Day ($5.3m/£3.73m from 432 sites) and New Year's Eve ($1.8m/£1.29m from 431 sites).
CURZON ARTIFICIAL EYE
Love & Friendship continued its excellent UK run with a non-final $241,000 (£169,813) weekend from 158 sites, with 18 still to report.
Curzon Artificial Eye's release of Whit Stillman's biggest hit is now up to a superb $1.7m (£1.17m) after three weeks in play.
Also for Curzon Artificial Eye, Fire At Sea posted a UK bow of $19,000 (£13,116) from its 15 sites, including previews.
STUDIOCANAL
When Marnie Was There enjoyed the strongest debut for a Studio Ghibli film in the UK since Howl's Moving Castle.
Studiocanal's release of the reportedly final Ghibli animation grossed $144,000 (£101,476) from its 53 sites, ahead of the bows for Arrietty and The Tale Of Princess Kaguya, among others.
PECCADILLO PICTURES
From its 21 sites through Peccadillo Pictures, Embrace Of The Serpent recorded a UK debut of $59,000 (£41,285), including $14,000 (£9,906) in previews.
VERTIGO RELEASING
Learning To Drive stalled with a $45,000 (£31,971) UK debut from its 81 sites through Vertigo Releasing.
MUNRO FILMS
The Stanford Prison Experiment posted a UK bow of $2,600 (£1,830) from its limited one-per-day shows at four sites through Munro Films.
After showing it at Picturehouse Central on Friday night only, Picturehouse will be screening the film at seven sites on Wednesday [June 15], with other UK venues coming in from this Friday [June 17].
UPCOMING RELEASES
This week sees saturation releases for Warner Bros' The Conjuring 2 (out today) and eOne's Gods Of Egypt, while Curzon Artificial Eye's Tale Of Tales receives a wide release.
Lionsgate's The Keeping Room, Metrodome's Bang Gang (A Modern Love Story) and Warner Bros' Barbershop 3: A Fresh Cut are among the films receiving a limited release.