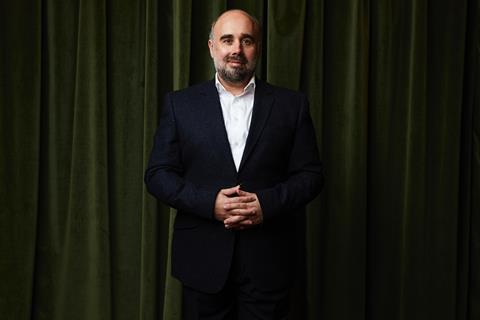 After taking the "heartbreaking" decision to cancel this year's Melbourne International Film Festival, artistic director Al Cossar has revealed the challenges and ambitions of mounting its first virtual edition.
"Putting on MIFF is a very involved and large-scale production, but undoing it is as well," said Cossar of cancelling the 69th edition due to the Covid-19 pandemic.
It marks the first time Australia's biggest film festival will not take place since its launch in 1952. But in a bid to provide some sense of event to the city's cinema lovers, an online streaming version is set to take place from August 6-23 (the original dates set aside for the festival) labelled MIFF 68 ½, which will showcase around 40 new features and documentaries.
Speaking to Screen, Cossar recalled the moment he knew the festival would be cancelled; constructing MIFF's first virtual edition; the impact of Cannes' postponement; the current mood on the festival circuit; and coming back with a bang in 2021.
When did you know you'd have to cancel the 69th MIFF and how did that feel?
We knew at the start of April that there wasn't a practical path to deliver the regular festival. It was heartbreaking, knowing the work that had gone into our intended 69th edition by our whole team and also knowing how our audience would feel. We have an incredible depth of connection with Melbournians, who take nearly three weeks off work and may see 60 or 70 films with us, but are suddenly without that opportunity for the first time in the festival's history. However, we have been gladdened by the public response. Despite the disappointment, it has been broadly met with generosity and a sense of understanding.
How is the festival team working together to launch the virtual edition?
We've confirmed a number of films, but we're programming until the end of June for a July 14 programme launch. We are fortunate to have both support and open dialogue with a huge amount of stakeholders whose collaboration is essential to this project – sales agents, filmmakers, distributors and national film bodies.
MIFF 68 ½ is not intended as a direct substitute to the festival but a way to respond to an unparalleled situation. It's our opportunity to be innovative, responsive and proactive. In the name MIFF 68 ½, there's an implicit sense of irregularity and irreverence to what we are doing.
Do you have any piracy concerns?
Films will be geo-blocked to a national delivery in Australia. We are completely confident in the security of the content that will be presented, given that [online streaming specialist] Shift72 can delivery studio grade DRM and operates to MPAA security standards.
Can you give any indication as to the line-up of films ahead of the programme launch?
The majority will be contemporary world cinema, documentary and animation, although we are considering some retrospective programming. It will be Australian and international work, including regarded auteur names in combination with discovery titles. There will be celebrated films from a variety of festivals including the most recent editions of Toronto, Sundance and Berlin.
We will also have a range of "Program Spotlight" films that will be elevated in the programme, acting as gala substitutes. The intention is to have a variety of virtual activations for those films specifically, from filmmaker attendance, to virtual afterparties with bands playing, or performative elements, all of which we are developing at the moment.
Might there be benefits of hosting Q&As online as part of this year's virtual edition?
One of the positive opportunities we can find in this space is how we may be able to access and engage a number of directors previously unavailable in more straightforward ways, given the duration to travel to Australia.
How did the postponement of the Cannes Film Festival impact this year's MIFF?
It was an element that contributed to our decision to cancel. We had 44 films from Cannes in the programme last year, and those big, new titles can be an important draw for our audiences. It was certainly a massive disruption to our sense of curatorial possibility.
What is the current mood on the film festival circuit?
What I've seen strongly suggests this is a time for experimentation on all fronts, to meet audiences on their own terms in the middle of a terrible situation, and to reappraise how we can foster connection and community in the middle of the world being a more distant and disconnected feeling place. I've seen a lot of thoughtfulness, insight and positivity from my peers when it comes to this.
There has definitely been a willingness for transparency to untangle the complexity of the space in a collaborative fashion, and to reassess established ways of working.
Are you already thinking about the 69th edition in 2021 to make it a festival to remember?
Absolutely! We will be one step closer to a highly significant anniversary year. Given the festival's cancellation, our 70th is now in 2022, and there are already ideas and planning in place for that anniversary as well.