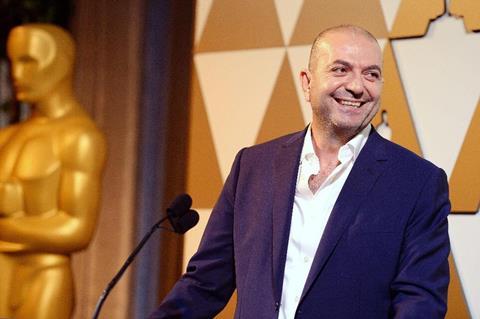 Memento Films International (MFI) has boarded sales on Palestinian director Hany Abu-Assad's new film Huda's Salon, which is billed as a "feminist spy thriller" set in the West Bank town of Bethlehem.
It is the Golden Globe-winning and Oscar-nominated director's first feature shot in Palestine since his 2015 drama The Idol about a talented young singer who makes his way out of the Gaza Strip to compete in Arab Idol.
Based on real events, the new film co-stars Manal Awad as a woman who runs a network of informers out of a hair salon in Bethlehem opposite Maisa Abd Elhadi as a young woman she attempts to blackmail into providing information.
When a group of militants raid the salon, both women find themselves caught up in a heart-racing fight for survival.
Awad is best known internationally for her performance in Arab and Tarzan Nasser's Gaza-set drama Degradé, while Abd Elhadi's was recent credits include Sameh Zoabi's Tel Aviv On Fire, Muayad Alayan's The Reports On Sarah and Saleem and Channel 4's crime thriller Baghdad Central.
They are joined by Ali Suliman, in the role of a militant chief leading the investigation. He co-starred in Abu-Assad's 2005 Golden Globe-winning suicide attack drama Paradise Now and more recently has broken out internationally with roles in Tom Clancy's Jack Ryan and The Looming Tower.
"Seldom do I find a story inspired by real events that also contains contradictions that is organically entertaining, a ticking bomb, ensuring tension, and where you find yourself emotionally involved, clearly rooting for the protagonist," said Abu-Assad. "From an artistic point of view, Huda's Salon is the ultimate interface space of two contradictory forces, betrayal and loyalty, that synthesize into an intriguing vision."
Now in pre-production, the film will shoot in March in Palestine. Abu-Assad and Amira Diab lead produced under the banner of their H & A Production alongside Egyptian producer Mohamed Hefzy at Cairo-based Film Clinic.
Maher Diab and Alaa Karkouti at Cairo-based Mad Solutions and Shahinaz ElAkkad at Lagoonie Film Production are co-producers and co-handle rights in the Middle East and Africa.
Daniel Ziskind is an associate producer for Film Clinic. Key Films in the Netherlands is on board as a co-producer.
MFI, which celebrates its15th anniversary this year, is also handling Berlinale opening film My Salinger Year and Persian Lessons, which premieres as a Berlinale Special Gala.
"We always wanted to work with Hany Abu-Assad. He has written such an original and inventive script that infuses poignant portraits of women into a tense and super-efficient spy thriller," said MFI sales chief Mathieu Delaunay. "Their lives hang by a thread, it's a real page-turner. Huda's Salon is a dream project: a director-driven commercial film."