Global Screen has reported robust Cannes sales on romantic-drama Mr Morgan's Last Love starring Michael Caine.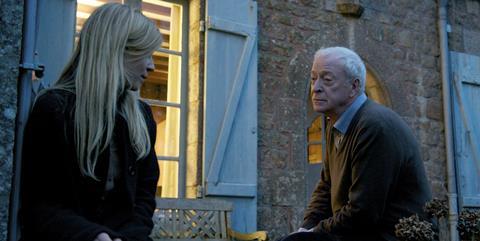 The German sales company has closed new deals with Svensk Film (Scandinavia), Umbrella (Australia), Sterkinekor (South Africa), Peterpan Pictures (South Korea), Shoval (Israel), Cinema Nueva Era (Mexico), IFA (Argentina), Tucuman (Brasil), Cine Columbia (Columbia), Prime Pictures (Middle East) and Suraya Filem (Malaysia).
Sandra Nettelbeck's romantic drama, starring Michael Caine, Clemence Poésy, Jane Alexander and Anne Alvaro, premiered at the Cannes Marche. It centres on a lonely American widower in Paris, who learns to love life again after a chance encounter with a beautiful and vibrant young woman.
Global Screen also announced several other sales in the wake of the market.
A Thousand Times Goodnight, currently in the final editing stage, was presold to Turkey (Bir Film), Israel (Shoval) and Latin-America (HBO).
Bir Films picked up Irish production Run & Jump.
HBO has taken Five Years, Ludwig II and Allez, Eddy! as well as German comedy Men Do What They Can.
Iranian Irib Media Trade picked up Allez, Eddy!, Five Years and International Criminal Court.
"We enjoyed a busy market in Cannes with a very successful market premiere for Mr. Morgan's Last Love, which we have sold to 20 territories", said Julia Weber, head of theatrical sales at Global Screen.
"Character-driven drama with an international cast attached continues to sell very well for us."