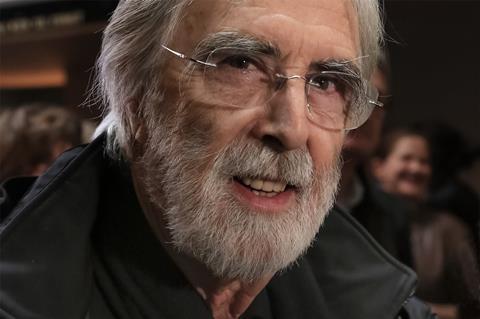 Multiple Palme d'Or winner Michael Haneke is lining up his first TV series, partnering with FremantleMedia's UFA Fiction on the 10-part drama Kelvin's Book.
The story takes place in a dystopian world set in the near future as a group of young people experience an emergency landing outside their home and are confronted with the actual face of their home country for the first time.
Nico Hofmann and Benjamin Benedict will serve as executive producers on the series for UFA Fiction.
"After ten TV-movies and twelve films, I wanted to tell a longer story for once," Haneke said.
Haneke won consecutive Palme d'Or awards for The White Ribbon and Amour, which won the Academy Award and Golden Globe for best foreign-language film, and won two BAFTA awards. The White Ribbon earned two Oscar nods. Haneke's credits include Funny Games, The Piano Teacher and Caché.
"No contemporary director has moved and inspired memore than Michael Haneke," UFA CEO Hofmann said. "Kelvin's Book is an extraordinarily rich, gripping and ambitious story. With contemporary themes and a reflection of the digital age that we live in, there's no better time for this project. We're privileged to be working with the esteemed Michael Haneke to bring his creative and unique vision to international audiences."
Haneke joins FremantleMedia's roster of creative partnerships, which includes Paulo Sorrentino (The Young Pope), Neil Gaiman (American Gods), and Neil Cross (Hard Sun).