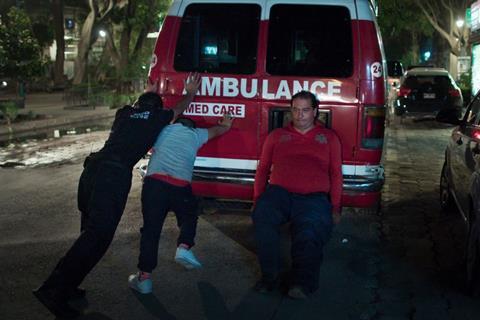 Luke Lorentzen's Midnight Family won the grand jury award (with a £2000 prize) at this year's Sheffield Doc/Fest, which held its closing ceremony last night (June 11).
Full list of winners below
The film tells the story of a family scraping a living operating a private ambulance in Mexico city, and was praised by the jury for acting "as a timely warning to the dangers of privatised healthcare."
The jury, made up of artist Jeremy Deller, producer Charlotte Cook and artist-filmmaker Jenn Nkiru also awarded a special mention to Hazzan Fazili's Midnight Traveller and Waad al-Kateab and Edward Watts For Sama, which also won the audience award.
Further winners
For the first time this year, Sheffield Doc/Fest presented an iternational award with a £1,000 prize, which went to Nikolaus Geyrhalter's Earth. Documenting the environmental destruction wrought by large-scale mining, it was praised for its "sheer scale and ambition". A special mention was given to Kristof Bilsen's Mother.
The £2,000 Tim Hetherington award, named in honour of the UK photo-journalist killed in the Libyan civil war in 2011, was given to Nanfu Wang and Jialing Zhang's One Child Nation, which tells an untold history of China's one-child policy.
The £1,000 Sheffield Art Award, was won by No Data Plan by Miko Revereza.
The Youth Jury award went to Baracoa, which was directed by Pablo Briones and The Moving Picture Boys, with a special mention for Liza Mandelup's Jawline.
This year's New Talent Award went to Archana Atul Phadke's About Love, profiling three generations of a South Mumbai family as they prepare for a family wedding.
The winner of the The Whickers film & TV funding prize, which awards £80,000 towards creation of the final film, was All That Remains by Amanda Mustard. Anna Oliker's AZ House placed second, receiving a £15,000 contribution.
Sheffield Doc/Fest 2019 winners
Grand Jury award - Midnight Family by Luke Lorentzen (Special Mention: For Sama, Midnight Traveller)
International award - Earth by Nikolaus Geyrhalter (Special Mention: Mother)
Art award - No Data Plan by Miko Revereza
Tim Hetherington award - One Child Nation by Nanfu Wang And Jialing Zhang
New Talent award - About Love by Archana Atul Phadke
Youth award - Baracoa Directed by Pablo Briones And The Moving Picture Boys (Special Mention: Jawline)
Short award - America by Garrett Bradley
Alternate Realities Jury Awards
Best Digital Experience award - Echo by Georgie Pinn, Kendyl Rossi
Best Digital Narrative award - Le Lac created by Nyasha Kadandara
Audience Awards
Doc Audience award - For Sama by Waad Al-Kateab, Edward Watts
Alternate Realities Audience award - Algorithmic Perfumery by Frederik Duerinck
Pitch Winners
The Whickers Film & TV Funding award - All That Remains by Amanda Mustard (runner-up: AZ House)
The BBC Three pitch - Rebecca Southworth, Ashley Turner
The Joseph Rowntree Foundation X Guardian pitch - Edwin Mingard And Elizabeth Benjamin (Stoke Film) And Hazel Falck - United Voices Of The World
The Channel 4 First Cut pitch - Ashley Francis-Roy