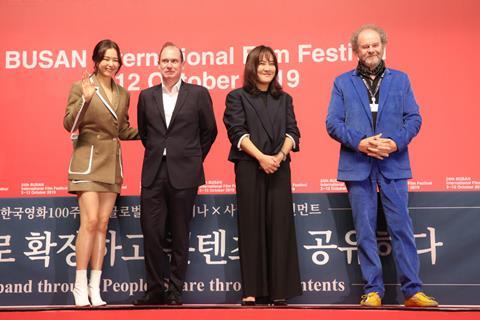 Korean talent management agency Saram Entertainment and Leaving Las Vegas director Mike Figgis announced that they are collaborating on an Asian omnibus project called Shame.
Figgis is working with Korean scriptwriter Uni Hong on the Korean-language omnibus which will begin casting after the script is done. Saram is planning to release Shame as both a theatrical omnibus feature and an OTT episodic series.
Saram Entertainment handles artists such as Cho Jin-woong (The Handmaiden), Han Yeri (Illang: The Wolf Brigade) and Hanee Lee (Extreme Job). The company's previous production credits include Ghost Sweepers, An Ethics Lesson and Spiritwalker, and CEO Soyoung Lee said they had ambitions to produce more local-language films in Asia: "We want to produce globally open films that look at other cultures from a certain perspective or position."
Figgis, who is in Busan on the New Currents jury, explained, "I began a few years ago to watch Korean drama series and films and became very intrigued by the Korean style of filmmaking. I made contact with Korean cinema expert Darcy Paquet who introduced me to Saram Entertainment and we began talking about possibilities. I convinced them of my genuine interest in being in Korea and being involved in something not of Hollywood and not of Europe."
The UK director said he was eager to learn about Korean storytelling and the Korean filmmaking style. "I bring my own skill so it's a collaboration. I hope the result works for an Asian and specifically a Korean audience."
As to his lack of Korean-language skills, Figgis said, "In my career as a storyteller, I've always created challenges for myself in order to make myself as precise as possible. I do not speak Korean, but I also understand it's a very complicated language. I have to trust my team to collaborate on the nuances."
The budget for each short is understood to be set at around $67,000 (KRW80m).