Director also reveals the name of his previously untitled Turner project and talks about switching from film to digital.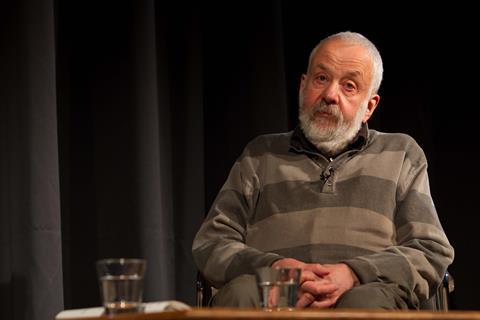 Mike Leigh, the director of Vera Drake and Another Year, has revealed he is to direct The Pirates of Penzance for the English National Opera.
Speaking at the fourth annual Peter Brook Lecture, organised by the Directors Guild of Great Britain at the British Library in London, Leigh was asked if he would consider working in musical theatre.
"I'm going to direct The Pirates of Penzance for English National Opera in 2015," he replied.
"The play we worked on at Stratford East [It's a Great Big Shame, 1993] was an attempt to make a piece of musical theatre. At that time my aspiration was, and it remains, to be able to create a piece of musical theatre. That's why I've accepted the invitation to direct a comic opera at ENO because I think I might learn something I don't know."
Leigh directed the Oscar and BAFTA-winning Topsy-Turvy in 1999, set around 19th century composers Gilbert and Sullivan who wrote The Pirates of Penzance.
He added: "I always really enjoy working with composers on all of my pieces. Music is really very important to me. I would very much like to explore that."
Turner
The director also revealed that his next film, previously titled Untitled Mike Leigh 13, will be called Mr Turner.
The feature will star the film-maker's occasional collaborator Timothy Spall as the renowned British artist JMW Turner.
Leigh has planned the film for over a decade and it is set for a 2014 release.
Having shot on film for the majority of his career, Leigh talked about the move to digital.
"For a long time, on our films we had a little logo designed with a pair of scissors and sprocket holes proudly saying edited on film and shot on film - we shot Another Year on film," said Leigh.
"But Mr Turner, which we are close to finishing, and a short film we made for the Olympics called A Running Jump, we finally decided to shoot on digital on the Alexa.
"I have to say, although we ate our hearts out, our decisions were considerably motivated by cost and the fact that things are moving in the direction of digital."
He described the work of his cinematographer, Dick Pope, using digital cameras as "very extraordinary and exciting."
"I never thought once that I would be saying this, but one has to be philosophical about it," added Leigh.
"We are moving on and the medium is there to be embraced. It's a reality. There's no point in being Luddite about it.
"We love film and can make another film on film. But it's at least an obsolescent aspiration because the new technology is very exciting. A tool is a tool, a medium is a medium. It's mastering it, which is to say getting the better of it, and deciding what you want to do with it. Frankly, that's the bottom line."
3D and TV
Asked if this new-found love of digital would see him embracing 3D, the 70-year-old director said: "I think 3D's great but, if I close one eye, you still look good in 2D."
Leigh was also asked if he ever considered moving into television. But the director, who famously has long periods of rehearsal before shooting a film, said: "You think, 'That would be good, having a TV series.' But then you think about how we would do that.
"When we make a two-hour film, we rehearse for six months. To make a series of 29 hour-long episodes, we would have to rehearse for six years, shoot for nine years and the premiere would be held on the day of one's funeral.
"And that's a serious answer to the question."