Warner Bros' Hot Pursuit lands with soft $486,000 (£311,000) from its 329 sites; Altitude Film Distribution's Amy will hit £3m today.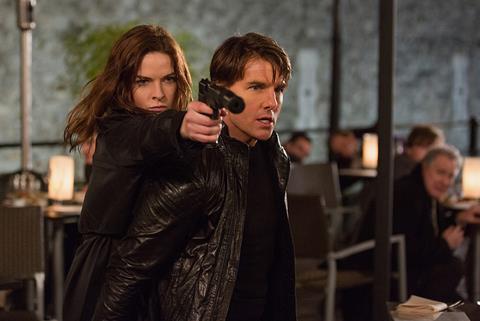 PARAMOUNT
Repeating its domestic success, Mission: Impossible - Rogue Nation cruised into top spot at the UK box office.
Paramount's latest adventure for Ethan Hunt and the IMF scored an $8.36m (£5.35m) debut from its 570 sites, including $1.6m (£1.02m) in previews. It's worth noting that even without its previews, Rogue Nation would have still landed in first place.
In terms of Mission: Impossible outings in the UK, Rogue Nation ranks as the third biggest opening, behind Mission: Impossible III ($8.39m/£5.38m) and Mission: Impossible - Ghost Protocol ($12.8m/£8.2m), although the latter did have hefty previews of $8.6m (£5.5m).
Based solely on Fri-Sun takings, Rogue Nation's $6.7m (£4.3m) result also ranks as the third best takings of the series, behind Mission: Impossible III's $7.4m (£4.8m) and Mission: Impossible II's $7.2m (£4.6m).
No Mission: Impossible film has yet hit the £20m mark in the UK, with Mission: Impossible's $29.1m (£18.65m) currently the series' highest grossing outing. Rogue Nation's mission, should it choose to accept it, will be to capitalise on the strong start and change that.
Also for Paramount, Terminator Genisys stands at $16.9m (£10.8m) following a $231,000 (£147,740) fifth weekend.
DISNEY
Impacted by the good weather, Inside Out fell 52% in its second weekend with $5.6m (£3.57m), breaking its own industry record by playing in 621 sites.
However, Disney's animation prospered midweek due to the summer school holidays and is up to an impressive $26.4m (£16.96m) after ten days in play, with the past seven days seeing it add almost £10m.
In terms of Pixar outings in the UK, Inside Out has overtaken both Cars films, with a trio of films in the £22m-£23m range (Brave, Toy Story and Wall-E) its next targets.
Also for Disney, Ant-Man fell 55% on its way to a $1.75m (£1.12m) third weekend for $19.9m (£12.76m) to date.
It will hope to soon overtake Thor's $21.9m (£14.04m) result, but Iron Man's $27.2m (£17.42m) tally could prove somewhat trickier to challenge.
ENTERTAINMENT
Southpaw held well as it followed up its strong opening with a $1.76m (£1.13m) second weekend.
Entertainment's boxing drama is now up to $6.3m (£4.04m) as it attempts to become director Antoine Fuqua's best-ever UK performer, currently King Arthur's $11m (£7.07m) result.
UNIVERSAL
Minions has become the second Universal release this year to hit £40m.
The animated spin-off recorded a $1.56m (£1m) sixth weekend to reach a terrific $62.5m (£40.03m). It's still tracking ahead of Despicable Me 2, which stood at $59.5m (£38.1m) at the same stage but did post a better sixth weekend with $2m (£1.3m).
Minions will need to capitalise on the summer holidays over the coming weeks if it hopes to overtake Despicable Me 2's $73.8m (£47.3m) result.
Also for Universal, Jurassic World roared to an additional $708,000 (£454,062) for a remarkable $97.8m (£62.7m). It will likely become the UK's eighth highest grossing film of all time by the end of this coming weekend, currently The Lord of the Rings: The Fellowship of the Ring with $98.2m (£63m).
Ted 2 fell 61% on its way to a $445,000 (£285,257) fourth weekend for $14.9m (£9.5m) to date.
WARNER BROS
UK audiences were decidedly cold on Hot Pursuit on its opening weekend.
Warner Bros' comedy grossed a soft $486,000 (£311,000) from its 329 sites, marking director Anne Fletcher's worst-ever UK opening behind The Guilt Trip's $675,000 (£432,068) from 316 sites.
Also for Warner Bros, Magic Mike XXL added an extra $158,000 (£101,000) for $10.5m (£6.7m) after five weeks in play.
FOX
In its ninth week of its run, Secret Cinema's production of The Empire Strikes Back took $460,000 (£295,275) for $5.3m (£3.4m) to date.
Also for Fox, Home and Spy have amassed $38.9m (£24.97m) and $15.6m (£10.01m), respectively.
ALTITUDE
Playing in 107 sites in its fifth weekend, Amy will hit the £3m mark at the UK box office today [Aug 3].
Altitude's critically acclaimed documentary took a further $247,000 (£158,000) to reach $4.7m (£2.99m), making it the sixth biggest feature documentary of all time and the fourth biggest non-concert feature documentary.
Amy looks set to overtake Asif Kapadia's previous documentary Senna ($4.95m/£3.17m) and could yet challenge March of the Penguins ($5.18m/£3.31m) as the second biggest non-concert feature documentary of all time.
ICON FILM DISTRIBUTION
Playing in 73 sites in its second weekend, Icon Film Distribution's The Legend of Barney Thomson took $164,000 (£104,932) for a ten-day tally of $625,000 (£400,470).
DOGWOOF
Iris, Albert Maysles' documentary of New York fashion icon Iris Apfel, posted a UK debut of $64,000 (£41,061), including previews, from its 24 sites through Dogwoof.
CURZON FILM WORLD
Now in its third week, Curzon Film World's The Salt of the Earth grossed $33,000 (£21,376) for $303,000 (£194,497) to date.
Also for Curzon Film World, Beyond the Reach recorded a UK bow of just $3,200 (£2,032) from its 18 sites.
METRODOME
In its second weekend, Metrodome's Eden danced to $25,000 (£15,702) for $154,000 (£98,794) to date, marking director Mia Hansen-Løve's best-ever UK performer.
UPCOMING RELEASES
This week sees saturation releases for Fox's Fantastic Four (opens Aug 6) and Lionsgate's The Gift.
Vertigo's The Diary of a Teenage Girl receives a wide release, while Warner Bros' Max, Peccadillo Pictures' 52 Tuesdays,Altitude's Marshland and Curzon Film World's Manglehorn are among the films receiving a limited release.