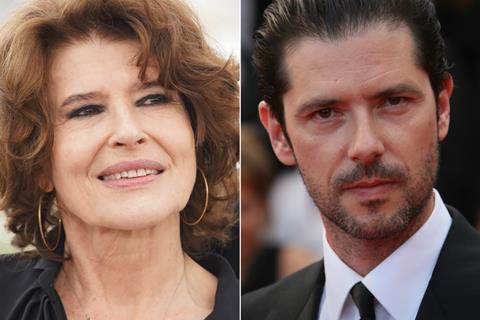 Paris-based mk2 films has boarded sales on Carine Tardieu's upcoming romantic drama The Young Lovers, starring Fanny Ardant opposite Melvil Poupaud as a 70-year-old woman who embarks on an affair with a married doctor 25 years her junior.
"It's a modern and nuanced drama where love defies society's standards," said mk2 films sales chief Fionnuala Jamison.
Ardant plays an elegant, retired architect whose path crosses with a happily married doctor in his 40s, who first made an impression on her in a brief meeting 15 years previously.
Both are quite troubled to meet again and begin an affair. While the doctor's family life is turned upside down, Ardant's character struggles with feelings she thought belonged to the past.
Iconic actress Ardant, whose classic film credits include François Truffaut's 1981 romantic drama The Woman Next Door and François Ozon's 8 Femmes, was most recently in Nicolas Bedos's well-travelled romantic comedy drama La Belle Epoque.
Poupaud recently co-starred in Ozon's By The Grace of God and is soon to seen in the director's upcoming coming-of-age tale Summer of 85.
The Young Lovers is Carine Tardieu's fourth feature after paternity test drama Just To Be Sure, which premiered in Cannes Directors' Fortnight in 2017; childhood comedy drama The Dandelions (2012) and drama In Mom's Head (2007), about a teenager trying to get to the bottom of her mother's depression.
The project is in pre-production for a late summer shoot and spring 2021 delivery. It is produced by French companies Agat Film/Ex Nihilo and Karé Productions as well as Belgium's Artemis Productions.
Further new titles on the mk2 films slate include stop-motion animation feature The Inventor about the life of Leonardo da Vinci, starring Stephen Fry as the artist and Daisy Ridley as his French renaissance patron Marguerite de Navarre. It is directed by Ratatouille screenwriter Jim Capobianco. It is selling international territories apart from the US which is handled by The Exchange.
Additionally, mk2 films has revealed Norwegian director Joachim Trier's upcoming contemporary comedy drama The Worst Person In The World will begin shooting in Oslo this August. It stars Renate Reinsve and Anders Danielson Lee in a modern love story set in Oslo.
The mk2 films slate also includes two Cannes label titles: French director and screenwriter Emmanuel Courcol's comedy drama The Big Hit and Israeli filmmaker Nir Bergman's father and son drama Here We Are. Both titles will market premiere in the Marché du Film online.
Memento Distribution has already acquired French rights for The Big Hit and is planning a October 28 release in France.