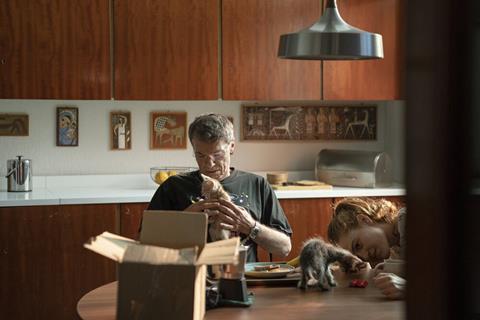 Prolific Greek producer Fenia Cossovitsa, co-founder of Athens-based production outfit Blonde SA, has revealed further details of her current slate.
Cossovitsa took part this week in Sarajevo's CineLink work in progress platform with Moon, 66 Questions, the first feature from Jacqueline Lentzou.
This continues a close collaboration with fast-rising talent Lentzou, which has seen the director and producer work on several shorts together, among them Fox; Cannes Critics' Week award winner Hector Malot: The Last Day of the Year; and The End Of Suffering (A Proposal), which premiered online in Locarno earlier this month.
"She (Lentzou) is somebody I believe in a lot as a filmmaker. I believe in her work and I am trying to support her any way I can," said Cossovitsa.
Moon, 66 Questions, now at the late editing stage, is co-produced by Paris-based Luxbox which is also handling world sales. The film received financing from the Greek Film Centre and Hellenic Broadcasting Corporation.
The film tells the story of Artemis, who has lived in France for several years away from her family in Greece. When she returns home, she learns of her father's long-term secret love story, thereby resetting the relationship between father and daughter. The film, which stars Sofia Kokkali (Hector Malot), is expected to be selected for a festival in early 2021.
Cossovitsa is also working with Lentzou on her next feature project, George, which also explores family dysfunction.
Alongside her work producing features for other Greek auteurs such as Sotiris Tsafoulias (The Other Me) and Rinio Dragassaki (Cosmic Candy), Cossovitsa has been line producer for several major international dramas shooting in Greece.
Cossovitsa confirmed she will be aboard the second and third series of Israeli thriller series Tehran and worked on Dominik Moll's series, Eden, for Atlantique Productions. Cossovitsa also produced Eteros Ego - Lost Souls, the first original TV series for leading Greek Pay TV platform, Cosmote TV.
"I was producing the second season when the pandemic hit and I stopped the shooting," she stated.
Production resumed in June and was completed last month. She has also recently worked as Greek partner and line producer on new French feature Say Cheese (On Sourit Pour La Photo), from director François Uzan on which her partners are Radar Films and Unagi Films. Shooting finished earlier this month.
Earlier this year, Cossovitsa received EU MEDIA slate funding for three of her projects: Yannis Veslemes' genre film, She Loved Blossoms More; Mignon by Sofia Georgovassili; and Brothers, a TV series created by Simon Farmakas and Vladimir Subotic.
Although the new Greek cash rebate was recently raised from 35% to 40%, Cossovitsa says that there is little funding for local production available outside what is provided by the Greek Film Centre and the national broadcaster. That is why she continues to co-produce with international partners - and to work on bigger budget TV projects alongside her auteur-driven feature films.
"I've produced a lot of film and first-time directors and, you know, it is really hard. At this point, I need to change a little bit and try something else," she said of her move toward high-end TV. "It's not that I don't love movies but producing first-time directors is the hardest thing you can do."