A24's drama – and the distributor itself – enjoyed a huge Saturday afternoon at Film Independent's 32nd annual Spirit Awards ceremony on the beach in Santa Monica.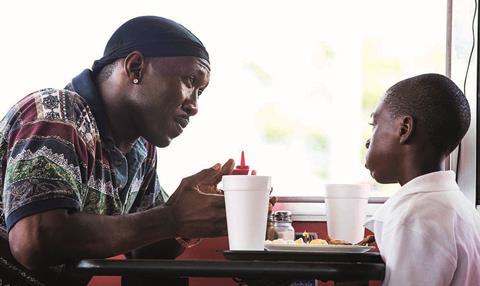 Best feature winner Moonlight won six awards and took the plaudits on an afternoon that also sends best director winner Barry Jenkins to Sunday's Oscars in high spirits and recognised Friday night's César winner Isabelle Huppert for Elle and Casey Affleck for Manchester By The Sea in the lead acting categories.
Besides best feature and director, Moonlight won screenplay for Barry Jenkins and Tarell Alvin McCraney, cinematography for James Laxton, and editing for Joi McMillon and Nat Sanders.
The film started the ceremony as joint frontrunner with American Honey on six nominations and converted all six, including the previously announced Robert Altman Award. American Honey went away empty-handed.
It was a triumphant afternoon for A24, which made its first financing foray on Moonlight and also distributed Robert Eggers's first feature and first screenplay double winner The Witch, as well as nominees American Honey, 20th Century Womenc
Toni Erdmann was named best international film, whileO.J.: Made In America prevailed in the documentary category.
Ben Foster was named best supporting actor for Hell Or High Water and Molly Shannon won best supporting actress for Other People.
Amazon Studios' Manchester By The Sea, written and directed by Kenneth Lonergan and released theatrically through Roadside Attractions had been in contention for five awards. Affleck was the sole winner.
The show was broadcast on IFC, which last week renewed its exclusive broadcast deal with Film Independent for the Spirit Awards through 2020.
Full list of winners appears below:
BEST FEATURE
American Honey
Chronic
Jackie
Manchester By The Sea
Moonlight
BEST MALE LEAD
Casey Affleck, Manchester By The Sea
David Harewood, Free In Deed
Viggo Mortensen, Captain Fantastic
Jesse Plemons, Other People
Tim Roth, Chronic
BEST FEMALE LEAD
Annette Bening, 20th Century Women
Isabelle Huppert, Elle
Sasha Lane, American Honey
Ruth Negga, Loving
Natalie Portman, Jackie
BEST DIRECTOR
Andrea Arnold, American Honey
Barry Jenkins, Moonlight
Pablo Larraín, Jackie
Jeff Nichols, Loving
Kelly Reichardt, Certain Women
BEST SCREENPLAY
Barry Jenkins and Tarell Alvin McCraney, Moonlight
Kenneth Lonergan, Manchester By The Sea
Mike Mills, 20th Century Women
Ira Sachs and Mauricio Zacharias, Little Men
Taylor Sheridan, Hell Or High Water
BEST FIRST FEATURE
The Childhood Of A Leader
The Fits
Other People
Swiss Army Man
The Witch
BEST FIRST SCREENPLAY
Robert Eggers, The Witch
Chris Kelly, Other People
Adam Mansbach, Barry
Stella Meghie, Jean Of The Joneses
Craig Shilowich, Christine
JOHN CASSAVETES AWARD
(Given to the best feature made for under $500,000. Award given to the writer, director and producer. Executive producers are not awarded.)
Free In Deed
Hunter Gatherer
Lovesong
Nakom
Spa Night
BEST SUPPORTING MALE
Ralph Fiennes, A Bigger Splash
Ben Foster, Hell Or High Water
Lucas Hedges, Manchester By The Sea
Shia LaBeouf, American Honey
Craig Robinson, Morris From America
BEST SUPPORTING FEMALE
Edwina Findley, Free In Deed
Paulina García, Little Men
Lily Gladstone, Certain Women
Riley Keough, American Honey
Molly Shannon, Other People
BEST CINEMATOGRAPHY
Ava Berkofsky, Free In Deed
Lol Crawley, The Childhood Of A Leader
Zach Kuperstein, The Eyes Of My Mother
James Laxton, Moonlight
Robbie Ryan, American Honey
BEST EDITING
Matthew Hannam, Swiss Army Man
Jennifer Lame, Manchester By The Sea
Joi McMillon and Nat Sanders, Moonlight
Jake Roberts, Hell Or High Water
Sebastián Sepúlveda, Jackie
BEST INTERNATIONAL FILM
Aquarius (Brazil)
Chevalier (Greece)
My Golden Days (France)
Toni Erdmann (Germany-Romania)
Under The Shadow (Iran-UK)
BEST DOCUMENTARY
13th
Cameraperson
I am Not Your Negro
O.J.: Made In America
Sonita
Under The Sun
ROBERT ALTMAN AWARD
(Given to one film's director, casting director and ensemble cast)
Moonlight
20th ANNUAL PIAGET PRODUCERS AWARD
(The 20th annual Producers Award, sponsored by Piaget, honours emerging producers who, despite highly limited resources, demonstrate the creativity, tenacity and vision required to produce quality, independent films. The award includes a $25,000 unrestricted grant funded by Piaget)
Lisa Kjerulff
Jordana Mollick
Melody C. Roscher and Craig Shilowich
23rd ANNUAL KIEHL'S SOMEONE TO WATCH AWARD
(The 23rd annual Someone to Watch Award, sponsored by Kiehl's Since 1851, recognises a talented filmmaker of singular vision who has not yet received appropriate recognition. The award includes a $25,000 unrestricted grant funded by Kiehl's Since 1851)
Andrew Ahn, Spa Night
Claire Carré, Embers
Anna Rose Holmer, The Fits
Ingrid Jungermann, Women Who Kill
TRUER THAN FICTION AWARD
(Presented to an emerging director of non-fiction features who has not yet received significant recognition. The award includes a $25,000 unrestricted grant.)
Nanfu Wang
Director of Hooligan Sparrow.