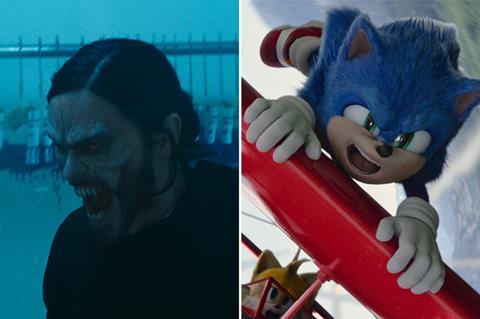 Worldwide box office April 1-3
| Rank | Film (Distributor) | 3-day (world) | Cume (world) | 3-day (int'l) | Cume (int'l) | Territories |
| --- | --- | --- | --- | --- | --- | --- |
| 1. | Morbius (Sony) | $84m | $84m | $44.9m | $44.9m | 63 |
| 2. | Sonic The Hedgehog 2 (Paramount) | $25.5m | $25.5m | $25.5m | $25.5m | 31 |
| 3. | The Batman (Warner Bros) | $24.2m | $710.5m | $13.4m | $361.5m | 77 |
| 4. | RRR (various) | $22.7m | $112.1m | $21.1m | $99.5m | 21 |
| 5. | The Lost City (Paramount) | $16.7m | $61.5m | $1.9m | $7m | 18 |
| 6. | The Bad Guys (Universal) | $10.5m | $28.7m | $10.5m | $28.7m | 41 |
| 7. | Uncharted (Sony) | $8.8m | $373.1m | $5.2m | $234.2m | 56 |
| 8. | Jujutsu Kaisen 0 (various) | $4.5m | $173.6m | $2.6m | $142.2m | 29 |
| 9. | Ambulance (Universal) | $3.3m | $18.6m | $3.3m | $18.6m | 59 |
| 10. | Sing 2 (Universal) | $3.2m | $395.3m | $2.4m | $233.6m | 69 |
Credit: Comscore, all figures estimates, click top right to expand
Morbius' shrugs off critical mauling
With a production budget reported in the $75-80m range, comic-book adaptation Morbius looks to be on a profitable path for stakeholders Sony and Marvel. The Jared Leto starrer, which like Venom is set within Sony's Spider-Man Universe, has begun with an estimated $39.1m in North America and $44.9m from 62 international markets, combining for $84.0m worldwide.
Morbius is tracking 10% below Shang-Chi And The Legend Of The Ten Rings for the same suite of markets at the same stage of release, at current exchange rates.
Among international markets, UK/Ireland led the way with an estimated $4.2m, ahead of Mexico (a robust $3.8m), France ($3.3m), South Korea ($2.6m) and Australia ($2.5m). Sony reported $2.7m for Middle East region combined.
With the school holiday just beginning in many markets, leading up to Easter Day (April 17), Sony hopes to achieve decent traction in the coming days and weeks.
Morbius does not seem to have been slowed down by negative critical opinion, scoring a weak 37/100 at Metacritic. Venom and its sequel Venom: Let There Be Carnage likewise suffered at the hands of the critics, going on to achieve global box office of $856m and $502m respectively.
Upcoming markets for Morbius include Netherlands (April 21) and Hong Kong (May 19) with a China release yet to be determined.
'Sonic The Hedgehog 2' speeds to success in early markets
Paramount is celebrating the success of Sonic The Hedgehog 2, which has grossed an estimated $25.5m in its first batch of international markets – covering 31 territories, and representing 50% of the international rollout. On a like-for-like basis, this group of releasing markets is 2% ahead of 2020's Sonic The Hedgehog at the same stage of release.
The blue hedgehog achieved its best result in UK/Ireland, topping the chart ahead of Morbius with an estimated $6.4m. Sonic likewise claimed the box office crown in France ($5.7m), Australia ($2.8m), Spain ($2.2m) and Germany ($2.1m).
Adapted from the Sega videogame, Sonic The Hedgehog 2 lands this Friday in North America and key international markets including Mexico, Brazil, Argentina, Italy and Israel, with Japan set for August 19.
The original Sonic The Hedgehog, released on the eve of the Covid pandemic in February 2020, reached $149.0m in North America, $170.7m for international, and $319.7m worldwide.
'The Bad Guys' gets UK boost
UPDATED: Universal's release of DreamWorks Animation's The Bad Guys expanded its international footprint from 37 to 41 markets, arriving in key territories UK/Ireland, Australia and Italy. UK/Ireland led the way for the film, with a confirmed $3m debut including previews – landing in third place behind fellow new entrants Sonic The Hedgehog 2 and Morbius.
In Australia, the estimated $1.5m debut (and $1.7m including previews) was hailed by Universal as the biggest animated opening of the pandemic. Italy, beginning with $1.6m, delivered the second-biggest animated opening of the pandemic.
Among holdover markets, Spain leads with $4.5m so far, ahead of Mexico ($4.1m) and Germany ($2.7m). Overall the film grossed $112m over the weekend for a $29.5m running total. This week sees The Bad Guys arrives in France (on April 6), with China, South Korea and Japan all to follow.
US titles dominate weak China box office
Roland Emmerich's Moonfall led the China box office in its second week of release, but the weekend tally of $3.2m (reported by Artisan Gateway) is dismally low for a chart-topping title in the territory. US films dominated the market, with Escape Room 2 opening in second place with $1.9m (based on takings from Saturday and Sunday), and Hotel Transylvania 4 (aka Hotel Transylvania: Transformania) landing in third with $1.8m (Sunday only).
Nationwide, cinemas in China delivered $12.6m box office – the lowest weekend total of 2022. The market is suffering from restrictions and lockdowns in cities where Covid is spiking, including in giant metropolis Shanghai.
Czech fairy tale tops local box office in Q1
While titles such as The Batman and Sing 2 dominated the Q1 box office in many international markets, the Czech Republic has been led in the period by children's fairytale The Secret Of An Old Pistol 2 (aka Tajemství staré bambikty 2), directed by Ivo Macharácek, and produced by Fairytale Production in co-production with Czech Television and Innogy.
The film was released on February 3, and has delivered 315,000 admissions in six weeks. It's a sequel to 2011 TV movie Tajemství staré bambikty, which was likewise directed by Macharácek. The original film told the story of a prince who falls in love with a poor potter's daughter.
Also scoring strongly in the Q1 period is Czech comedy The Heart In The Open Hand (aka Heart To Heart, aka Srdce na dlani), directed by Martin Horsky (Women On The Run, 2019), with 175,000 admissions.
'The Batman' pushes past $700m
UPDATED: Warner Bros' The Batman added another estimated $24.2m at the weekend, cracking $700m, and taking the global total to $711.9m. International markets delivered $14.5m for $362.7m, while North America has generated $349.2m.
The Batman has now reached 70% of the $1.01bn lifetime box office achieved by The Dark Knight, and 66% of the $1.08bn grossed by The Dark Knight Rises.