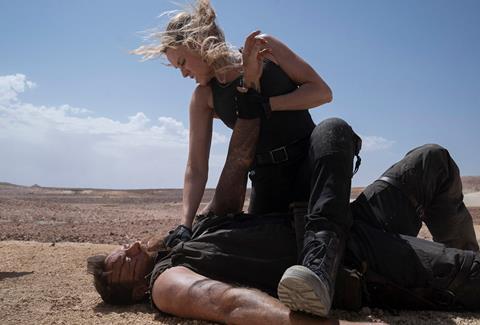 'Mortal Kombat' boosted by Australia opening
UPDATED: A $3.2m opening in Australia – including previews – helped New Line/Warner Bros' Mortal Kombat achieve a confirmed $6.5m in international market for its third weekend of play, a rise of 9%.
The videogame spinoff also made its debut in North America, topping the box office with an estimated $22.5m. International total is $27.8m, and globally it's $51.1m.
Australia, which has suffered fewer than 1,000 Covid deaths so far, has been a global box office bright spot in recent months, which have coincided with the southern hemisphere's summertime. Australia is already the second strongest international market for Mortal Kombat in cumulative totals, behind Russia ($10.7m), and ahead of Mexico ($1.4m), Indonesia ($1.1m), United Arab Emirates ($1.1m), Spain ($1.1m) and Taiwan ($1m). Mortal Kombat's opening number in Australia is the country's third-highest R-rated debut of all time.
Imax takings for Mortal Kombat stand at $4.3m, which is 8.6% of the global total.
Key markets yet to open for the Simon McQuoid-directed film include UK on May 17, Brazil on May 20 and Japan on June 18.
New Line's earlier adaptation of Mortal Kombat grossed $122m worldwide in 1995. Sequel Mortal Kombat: Annihilation delivered a relatively disappointing $51.4m in 1997.
'Godzilla Vs. Kong' cracks $400m
UPDATED: Warner Bros and Legendary's Godzilla Vs. Kong saw a significant drop in international takings at the weekend, with a confirmed tally of $5.6m, down 54%. However, the studios will be paying more attention to the Adam Wingard-directed monster mash-up's notable box office milestone, passing the $400m barrier globally.
In international markets, the latest takings for Godzilla Vs. Kong push the total to $319.9m. In North America, where the film fell 46% at the weekend with estimated takings of $4.2m, the total so far is $86.6m. Global tally is $406.5m.
The performance of the film in China, where Godzilla Vs. Kong has reached $182.8m, is a crucial component of its success. Next-biggest international markets are Australia ($20.1m) and Mexico ($18.3m), followed by Taiwan ($12.4m) and Russia ($11.7m).
Godzilla Vs. Kong earlier became the biggest-grossing Hollywood film of the pandemic era, overtaking Tenet ($364m). It also overtook the $387m lifetime total achieved by Michael Dougherty's Godzilla: King Of The Monsters in 2019, but remains behind the $525m accumulated by Gareth Edwards' Godzilla in 2014, as well as the $567m reached by Jordan Vogt-Roberts' Kong: Skull Island in 2017.
'The Unholy' tops Mexico box office
Sony Pictures scored a chart-topping debut in Mexico with Screen Gems' The Unholy, launching there with an estimated $1.2m. Mexico accounted for the lion's share of the film's weekend international takings of $1.9m. International cumulative total is $4.7m from 12 territories. Screenwriter Evan Spiliotopoulos (Beauty And The Beast, The Huntsman: Winter's War) makes his directing debut with the religious-themed horror, which stars Jeffrey Dean Morgan.
Sony continued its chart-topping run in Taiwan with Man In Love, which added $1.2m in its fourth frame. Total so far is $11.3m. Man In Love is a local-language remake of the 2014 South Korean romantic drama about a low-level gangster who learns he has a terminal illness and falls in love for the first time, and is the highest-grossing Taiwanese film released during the pandemic period.
Sony's Peter Rabbit 2 added another $900,000 in Australia and New Zealand, where the cumulative total are respectively $14.4m and $1.9m – combining for $16.3m to date. The family sequel, which is also known as Peter Rabbit 2: The Runaway, reaches UK cinemas when they reopen in England and Scotland on May 17. The original Peter Rabbit scored a hefty £41.1m ($57.2m) at UK and Ireland cinemas in 2018.
Rurouni Kenshin scores in Japan despite state of emergency
Warner Bros' Rurouni Kenshin: The Final resisted the challenge of Japan's worsening Covid situation, debuting with a solid $6.6m, including $450,000 on imax screens. Directed by Keishi Ohtomo, this is the fourth live-action film to be adapted from the period detective manga series written and illustrated by Nobuhiro Watsuki.
The original Rurouni Kenshin film debuted with $5.09m in 2012, while sequels Rurouni Kenshin: Kyoto Inferno and Rurouni Kenshin: The Legend Ends, both released in 2014, began respectively with $5.77m and $8.57m. Cumulative totals in Japan for these three titles are, respectively, $36.8m, $50.0m and $39.3m.
Japan entered a two-week state of emergency on Sunday (April 25) in four prefectures – Tokyo, Osaka, Kyoto and Hyogo – which saw some cinemas close.