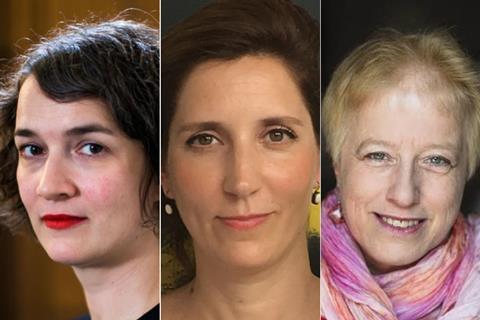 Titles in the International Feature competition and Burning Lights International competition of Swiss documentary film festival Visions du Réel will start screening online tomorrow, Saturday April 25.
It is a moment artistic director Émilie Bujès feared would never happen. Faced with the cancellation of the physical festival in Nyons due to the Covid-19 crisis, she initially believed moving the line-up online would simply be too difficult.
"I thought, 'We have all these world premieres, people won't move them online'," she said.
But the idea of cancelling altogether was too tragic and postponing turned out not to be a viable option. And the rights holders – even for those world premieres – "were very fast to say yes," explained Bujès.
She started by asking the 84 films in the international competitions – 82 said yes nearly immediately. "They were happy to have another solution."
The festival had announced its line up on March 10 for its physical event. Just days later, the Swiss government banned gatherings of more than 50 people until at least the end of April. The Visions du Réel team – all working from home – hustled to move the festival online in less than a month.
The online offering launched April 17 (the original festival was due to start today on April 24 and run until May 4) to give the audience more time to watch films. It will run until May 2. For each of the films screening in the festival, 500 online free 'tickets' are available. These have sold out on the films that have screened so far (some are geo-blocked) and the organisers are anticipating demand to be just as high for the international competitions titles.
For the national competitions, those films are streaming for 24 hours each on Swiss national broadcasting site Play RTS. These are all geo-blocked for Swiss IP addresses.
In total, of the 170 films planned for the physical festival, about 130 are available online. The originally selected juries will deliberate online.
The festival worked with Festival Scope and Shift72 (who started collaborating on CPH:DOX's platform in March) to build the streaming platform, all available within a click of the Visions du Reel website. "We wanted to centralise everything and for the access to be very, very simple," Bujès emphasises.
Offering the films to audiences for free was a key tenet. "We have decided to give up our income on the ticketing," Bujès says. The festival moved online before ticket pre-sales started or exhibitors had to be paid.
"The financial situation for us was that we had the chance to cancel the physical festival a few weeks before it started, there were things in terms of infrastructure that we didn't have to pay for yet. We also had confirmation from partners and sponsors, both public and private, they would stick with us… the money we're saving on one side we are reinvesting on the other side."
Then it was just a matter of securing the rights. "We started originally moving the competitions online, and then filmmakers in other sections that were going to have their world premieres with us said, 'Hey, don't leave us behind,'" she explained.
There's more than just links to click on. "We don't want a cold online event that feels very remote to everybody. We wanted to think of all the things we could invent to make it more personal and warm. We have the directors to pre-record introductions to the films, for instance."
There will also be lots of filmmaker talks and themed debates online, as well as masterclasses with Peter Mettler, Claire Denis and Petra Costa that have moved to digital.
Moving a whole festival online in a month is a big feat, but compared to some, Bujes admits, "We were lucky to have four weeks." They also sought some advice from earlier events that were also moved online in Corona times, such as CPH:DOX, Thessaloniki and Series Mania.
The festival has also invested in a daily phone hotline for its audience to troubleshoot going online. "For documentaries, you have all ranges of ages in the audience so we didn't want to leave them behind," Bujès says, in reference to older, less tech-savvy viewers.
The move online has of course not been easy, but it could reap learnings for future editions. "We have to make sure we benefit from it. We are also suffering and sad [to lose the physical festival] We have to look for ways to learn and grow from this. Maybe if you invent new models and use those platforms it can allow those films to have a larger life."
Hope for real deals in industry programme
Visions du Réel's industry co-heads Violeta Bava and Gudula Meinzolt have also been able to move most of their key industry activities online. "It was important for us not to close down," says Meinzolt. "We want to be a useful platform for filmmakers to move ahead with their projects."
To that end, their co-production forum Pitching du Réel will be held on Zoom for industry professionals on Monday April 27. It will comprise 15 pre-recorded pitches shown in a live event, followed by the festival's usual unique roundtable feedback for each project moving online. One-on-one meetings will follow those roundtables.
They are still confirming final numbers of decision-maker participants, but Bava is encouraged by the response. "Moving online has allowed us to expand our borders, to invite more people who might not have been able to make the trip to Nyon. We expect a strong number."
Even in strange times for filmmakers and funders alike, Meinzolt is hopeful real business can happen. "The projects are marvellous, it is a very careful selection. These are necessary films, and in that sense there will be interest in them for sure. We hope there will be some deals."
The Docs in Progress event will take place online on Wednesday April 29 and will showcase nine films in post-production. The rough-cut lab for four projects will also proceed online with tutors working remotely, but hopefully intimately, with the filmmakers. A summit introducing Swiss producers to UK producers to foster long-term relationships is also being held digitally. The BFI's international fund is supporting the participation of Almara Reques, Dewi Gregory, Elhum Shakerifar, Michael Hewitt and Sonja Henrici.
The industry talks have also moved online in a more focused way and taken on even more timeliness, with several conversations ready to explore how the pandemic will affect the film industry – in terms of the market, film festivals and production processes being impacted.
The team has recruited top-notch speakers (including some who might not have been able to visit Nyon in person under normal circumstances): Jerome Paillard from Cannes Marche, Marit van den Elshout from Rotterdam, Paolo Moretti from Cannes Directors' Fortnight, Diana Sánchez from Toronto, and Roberto Olla from Eurimages.
These are open to the public for free, and therefore might reach a larger audience than those who could have been in Switzerland next week.
"Maybe this dialogue and collaboration can help us think about these adventures together, and have solidarity," said Bava.