EXCLUSIVE: Research group Parrot Analytics has challenged the orthodoxy of the traditional ratings system in light of declining viewer numbers for the second season of the Golden Globe-winning show.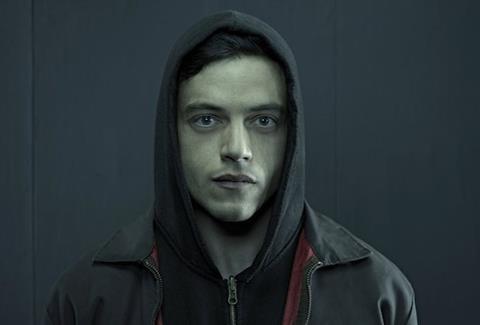 Nielsen linear ratings for Mr. Robot dipped over the first season and took a steeper dive once the second season got underway, dropping on average 40% against the first season.
However Los Angeles-based Parrot Analytics has issued a report that challenges the notion that the USA Network show, starring recent Emmy winner Rami Malek, is experiencing a genuine decline in popularity.
The report, entitled Is Mr. Robot Really declining? and compiled published shortly before the September 21 Season 2 finale, uses the company's bespoke metrics to gauge viewer demand for a show across all viewing platforms.
It reveals that while Nielsen's linear indicators paint a downward viewer trend in all but two episodes of Season 2 of Mr. Robot, demand climbed against Season 1 in almost every case except episode 3.
Parrot Analytics argues the reason is most viewers of Mr. Robot are watching the show via file-sharing sites and doing so at a higher rate than viewers of other shows like The Walking Dead and Game Of Thrones.
Viewer demand, known in Parrot Analytics parlance as Demand Expressions, cites data points of intent to view culled from streaming sites, social media platforms, photo-sharing, peer-to-peer protocols, blogs, file-sharing platforms, wikis and informational sites, and fan and critic rating sites.

"Demand and linear ratings for each season of Mr. Robot are not strongly correlated: its low viewership has no effect on its overall popularity," said the report."
Elsewhere the report said: "This increase [in demand], the complete opposite of the trend in linear ratings, suggests that Mr. Robot's popularity grew even when it was off the air as people discussed and shared the show with their friends," says the report.
"In fact, Mr. Robot has been the most in-demand title in the United States for the last two weeks [September 4-10 and 11-17]; in terms of popularity, the second season is anything but a disappointment."