Eichinger's Hands Of A Mother won three prizes at the German Cinema New Talent Awards.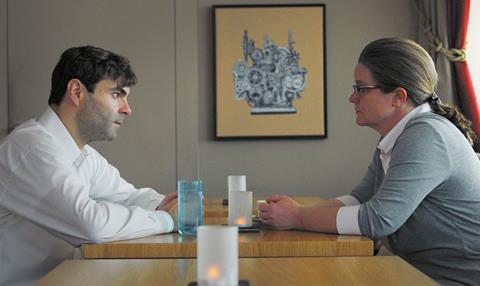 Florian Eichinger's third feature Hands Of A Mother (Die Hände meiner Mutter) was the big winner at this year's German Cinema New Talent Awards held during the 34th edition of Filmfest München (23 June - 2 July) which ended at the weekend with the international premiere of Matt Ross' Captain Fantastic.
Eichinger received the £33k (€30k) award for Best Direction, while his lead actor Andreas Döhler was named Best Actor for his performance as a man who breaks his self-denial to recall having been sexually abused as a child by his mother.
The co-production by Kinescope Film and Bergfilm with ZDF's Das kleine Fernsehspiel unit, which is the final part of Eichinger's trilogy about violence within the family after 2008's Bergfest and 2013's Nordstrand, will be released theatrically in German cinemas by Farbfilm Verleih on 1 December. International sales are being handled by Media Luna New Films who will give the film its market premiere at this week's German Films Previews in Bremen (July 6-9).
The jury consisted of producer Nicole Gerhards, actor Johann von Bülow and writer-director Dietrich Brüggemann. The award for Best Production went to Jana Raschke and Igor Dovgal for Soleen Yusuf's House Without Roof (Haus ohne Dach), while the honours for Best Screenplay went to Mareille Klein for her graduation film Dinky Sinky which also picked up the FIPRESCI International Critics Prize.
As in previous years, hardly an evening went by during the ten days of the Munich film festival without a prize-giving ceremony held at a venue in the Bavarian capital: the awards ranged from the Bernd Burgemeister Television Prize for Cyrill Boss and Philipp Steinert's Die Dasslers about the brothers behind the world famous Adidas trainers through the CineMerit Award for the veteran actress Ellen Burstyn.
Elsewhere, the Peace Prize of German Cinema - The Bridge 2016 awards went to: Tobias Lindholm's A War for best film, Deniz Gamze Ergüven's Mustangfor best new talent, Burghart Klaußner for best actor in The People vs Fritz Bauer. A special prize was given to Gianfranco Rosi for Fire At Sea (Fuocoammare).
The ARRI/OSRAM Award for best international film went to Asghar Farhadi's The Salesman, with a special mention made of Amos Gitai's Rabin The Last Day, while the CineVision Award for best international newcomer was presented to Houda Benyamina's Divines.
The Fimfest's audiences voted to give the Bayern 2 & SZ Audience Award to French director Kheiron's All Three Of Us which was released in German cinemas last Thursday (June 30) by NFP.
International guests attending Diana Iljine's fifth outing as festival director this year included such directors as Bahman Ghobadi, Christian Petzold, Terence Davies, Maggie Greenwald, Elena Hazanov, Todd Solondz, Maren Ade, Emin Alper, Lionel Baier as well as a delegation of Brazilian filmmakers.
Wrap news
German Films Previews present Munich world premieres
World premieres from the Filmfest's programme will have market premieres at the annual showcase of new German films, which attracts international buyers from all over the world. These are: Media Luna's Hands Of A Mother, Dani Levy's Wunderlich's World (Beta Cinema), Ana-Felicia Scutelnicu's Anishoara (Pluto Film), and Sven Taddicken's Karlovy Vary competition title Original Bliss (Picture Tree).
The Previews line-up will also include Jakob M. Erwa's Center Of My World (M-Appeal) which premiered in competition in Moscow before screening in the New German Cinema sidebar in Munich on the Filmfest's first weekend.
Other titles looking to catch the buyers' eyes are three films from ARRI Media International - Tim Trachte's Vampire Sisters 3 - Journey to Transilvania, Oliver Kienle's Four Hands (working title), and Cordula Kablitz-Post's In Love With Lou - A Philosopher's Life - as well as Andreas Gruber's Hanna's Sleeping Dogs (Picture Tree) and Christian Theede's Time Heroes (Global Screen).
MovieBrats get the Hump with Pixar talent
Berlin-based production house MovieBrats Pictures, the German co-producer for Russian director Ivan Tverdovsky's Zoology, has teamed up with the former Pixar director R.J. Gibbs to produce the 3D animated desert adventure Hump from a script co-written by the Sundance Audience Award winner Amin Matalqa and Matthew Antonelli.
Producer Alexander Weimer told Screen that MovieBrats will serve as the delegate producer on the international production alongside Matalqa and former Pixar story manager Ryan Lynch, with Eric Goossens of Belgium-based Walking The Dog serving as co-producer.
Production is schedued to begin in late spring 2017 on what will be Gibbs' feature directorial debut after working as a story artist on such Pixar productions as Toy Story 2, Monsters, Inc. and Finding Nemo as well as directing episodes of Pixar TV shows Mater's Tall Tales and Tales From Radiator Springs.
Zoology had its international premiere at this week's Karlovy Vary International Film Festival after showing at the Kinotavr - Open Russian Film Festival in Sochi last month where it won Best Actress for Natalya Pavlenkova and the Prize of the Russian Guild of Film Critics.
Bavaria Film and Sky Deutschland plan The Boat sequel
The Filmfest week also saw Bavaria Film and pay TV operator Sky Deutschland announcing that they are currently developing a $28m (€25m) TV event series The Boat as a sequel to the international blockbuster.
The eight one-hour episodes will be based on Lothar-Günther Buchheim's book Das Boot and Die Festung and pick up on the events after the submarine comes under Allied fire in the harbour of La Rochelle in 1942 at the end of Wolfgang Petersen's 1981 feature film version.
Tony Saint (The Interceptor) and Johannes Betz (The Tunnel) are serving as head writers for the international, multi-lingual series which is set to have its premiere on the Sky platforms in Germany, Austria, Italy, the UK and Ireland in 2018.
The feature film and TV series launched the international career of director Petersen who went on to make such films as The Neverending Story, Enemy Mine, and In The Line Of Fire, and Air Force One.