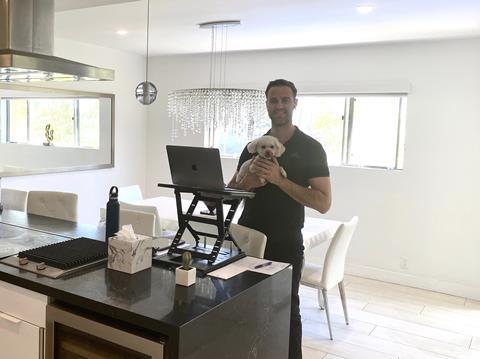 Los Angeles-based Jeffrey Greenstein is president of Millennium Media, the independent studio behind the Has Fallen and The Expendables franchises, as well as Blackbird and the upcoming Red Sonja reboot with Jill Soloway.
Millennium's Nu Boyana Studios in Bulgaria has reopened for business and anticipates a July start on horror film Till Death starring Megan Fox.
How are you working through lockdown?
California and Los Angeles County have instituted a 'Safer at Home' programme, whereby it's a loose version of lockdown. We instituted a company-wide 'Work from Home' programme for Millennium as of March 13. I'm very lucky to have my family nearby, where we get together for dinners and events, like my father's birthday and Mothers' Day. I'm also lucky to have a sweet little Maltipoo, Teddy, who makes every day at home a pleasure.
Do you have a daily 'office' routine?
My daily routine consists of a 9am call with my team to discuss the pending deals that we're closing and/or contracting. From there, it's a non-stop free-for-all depending on the day and what meetings are scheduled. We're delivering four films for release, including Tesla, which was acquired by IFC, and Blackbird, which was just acquired by Screen Media. We're in post-production on an additional three films.
What is your advice for working from home?
Stay positive and regularly interact with the outside world. Being stuck at home can get lonely. It's also important to have a regular health and fitness regimen.
In what ways are you keeping up team morale?
Millennium has a family-oriented culture. Interacting with one another on a daily basis is crucial to our productivity and well-being. We've made a conscious effort to keep everyone on board amid the crisis, as we are committed to supporting our team, who has supported us.
How much time are you spending on video calls?
Depending on the day, anywhere from two to six hours. We're in the process of reaching out to all of our partners worldwide to set video conference calls, so I expect that number to increase drastically. It's always good to see the faces of our partners, to know that we're here for each other and that we will survive this together.
What projects are you working on and have you been able to attach any key casting?
We have some tricks up our sleeve that are soon to be announced with A-list talent attached. Other big priorities for us: Till Death, our Megan Fox film that was supposed to shoot from March 23, that we're preparing to begin again; Red Sonja; and The Legend Of Sinbad. We're revising the scripts and preparing to shoot in 2021.
We also have our passion project about the journey that saved [children's book and screen character] Curious George. It's a true story following the creators Margaret and Hans Rey as they escaped Paris on a makeshift tandem bicycle as the Nazis were invading, while carrying the manuscript of their beloved children's book.
Are there any updates on Red Sonja?
We're working with Jill Soloway on the script. We have an awesome direction that we're excited to share…when it's ready!
And what's next for the Has Fallen franchise?
The next instalment is being written to be ready to shoot next spring.
What is the status of a return to production at Nu Boyona?
Nu Boyana Studios opened its doors on May 13 and the Bulgarian government plans to lift travel restrictions on June 14. We're in the process of instituting a system of protocols and best practices in tandem with the government to allow productions to resume safely as soon as possible.
Is there a timeline and which projects would be the first to shoot?
I believe we will be able to start shooting as early as July.
How are you going to engage with the Cannes virtual market platforms?
We're still undecided on what platform and what our involvement will be. But for sure we will have a presence, and we are looking forward to using this as an opportunity to catch up with all of our partners worldwide.
Do you expect to bring new sales titles to the market and will you start pre-sales on any before June 22?
We do not have plans to bring any 'new' projects to the digital Cannes. With everything as uncertain as it is, we're planning to build our new tentpole titles, such as the sequel to Angel Has Fallen, as soon as possible. Our partners will be eager to have these films whenever they are ready, so we don't feel the need to rush to 'sell' them something now. We may be presenting a film or two that many of our partners have already heard us sharing our excitement about.
What have you been watching, reading or listening to during this time?
My guilty pleasure has been watching the entire Game Of Thrones series start-to-finish for the first time (believe it or not). Other than that, I'm reading a lot of scripts and spending my free time writing.
What do you feel is the mood of the industry?
Surprisingly optimistic. Distributors are releasing movies by any means necessary. Producers, like us, are still actively developing, packaging and building our slates for the years to come. There will always be a demand for theatrical content.
What advice would you give to people in the business who are worried about the future?
Invest in Millennium and our slate of films. Kidding aside, stay positive, but be realistic. The industry is constantly changing – and amid the Covid-19 pandemic, it's changing now more than ever. Use this time to study what's working and don't give up. The thing I've always loved about producing is that against all odds and complete rejection, you still champion your project relentlessly to bring it to fruition.
What has most surprised you about yourself during lockdown?
I find that I'm even more productive than I was working out of the office. The beautiful thing is that there is zero travel time between meetings! I've also started a regular workout regimen and a healthy diet where I've lost more than 10 pounds over the past month, slimming down to a healthy and fit state that I'd like to maintain.
What is the first thing you will do when the lockdown is lifted?|
I imagine it will be travelling to a beautiful place with either a beach or to the mountains to ski!
What positive change might this bring to the industry?
It's important to see the pace of life that we were accustomed to was perpetuated by the fact that we didn't have a moment to stop and observe it. Focus is absolutely critical for productivity. Work can be done from anywhere in the world, and at any time. Each team will function differently and will learn to work in ways that best suit them moving forward. Now that video conferences are such a viable option, travel for meetings will most likely significantly decrease.