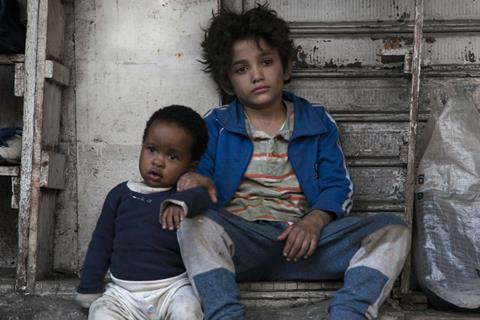 French sales powerhouse Wild Bunch has unveiled a raft of deals on Lebanese director Nadine Labaki's buzzy third film Capernaum ahead of its world premiere in Competition on Thursday (May 17).
Inspired by Labaki's own research into child neglect, the feature revolves around a 12-year-old boy with a miserable life who decides to sue his parents for bringing him into the world. The director shot the film in Lebanon but says the picture she paints could unfold anywhere in the world.
Key deals include to France (Gaumont), Italy (Lucky Red), Japan (Kino Films), Scandinavia (Scanbox Entertainment), Benelux (Cinéart), China (Road Pictures) and the UK (Picturehouse).
As announced earlier in the market, Sony Pictures Classics (SPC) has acquired North American and Latin American rights and is also planning an awards-qualifying release in December.
The film has been one of the buzz titles in Competition this year for buyers, sparking bidding wars in a number of territories including France where around eight distributors expressed strong interest in the picture.
It marks a rare arthouse acquisition for Gaumont, for example, which usually focuses its distribution efforts on in-house productions.
"Some buyers have likened it to Chaplin's The Kid," said Wild Bunch co-chief Vincent Maraval. "It's a small film, made on a tiny budget, which has reached the hearts of buyers."
Labaki and her husband, composer Khaled Mouzanar, lead produced the film under their Mooz Films banner.
Rushed into production
In an interview with Screen ahead of the premiere on Thursday, Mouzanar revealed they rushed to kick off the shoot without the full budget in place on learning that one of their key locations was about to be demolished.
"Nadine was preparing the film in Beirut when it was announced that a central location for the film was going to be condemned. We had not lined up the budget, or a producer. We'd been working on casting and locations with a couple friends," he said.
"We had no choice but to rush into making the film and had to ask for the support of friends just to start shooting. I became a producer because we didn't have the time to find one. Someone had to do the job and since I had the understanding of the project, it made sense that it was me."
Working with two young, non-professional actors in the lead roles, one of them only aged one, Labaki decided to shoot over as long a period as possible to obtain the performances she needed. She also used a small crew to ensure a relaxed and intimate atmosphere on the set.
"We ended up shooting 85 days in this manner. It was incredibly challenging for all of us, cobbling the money together while we were shooting, never really knowing if our production would be shut down. We were shooting, looking for money, shooting, looking for more money," said Mouzanar.
"At times we didn't know if we could keep going but somehow it did, with the help of amazing people who trusted us and kept us funded, piece by piece, and a crew that believed in the film and gave their all to make it happen."
Thursday's premiere will be Labaki's first time in Competition in official selection. She premiered her first feature Caramel in Directors' Fortnight, having developed it at the Cannes Résidence of the Cinéfondation, while her second film Where Do We Go Now? debuted in Un Certain Regard.