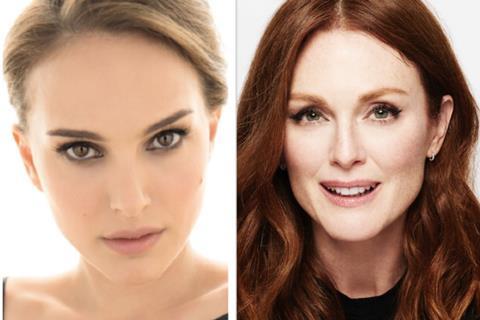 Natalie Portman and Julianne Moore will star for Todd Haynes in May December, which Rocket Science will introduce to international buyers at the virtual Cannes market this month.
UTA Independent Film Group and CAA Media Finance represent US rights to the drama based on Samy Burch's screenplay from a story by Burch and Alex Mechanik.
Principal photography is scheduled to commence next year. May December centres on the interaction between Hollywood star Elizabeth and Gracie, a woman Elizabeth will portray in a film and whose notorious tabloid romance made headlines two decades earlier.
The arrival at Gracie's home prompts a shift in family dynamics, as the women see their own similarities and differences, and Gracie's husband Joe, 23 years her junior, contemplates empty nest syndrome as their twins prepare to graduate from high school.
Jessica Elbaum and Will Ferrell of Gloria Sanchez Productions, and Christine Vachon and Pam Koffler of Killer Films will produce alongside Portman and Sophie Mas of MountainA.
Moore has worked with Haynes on five films including Far From Heaven, and will next star in Dear Evan Hansen. Portman recently wrapped principal photography on Thor: Love and Thunder.
Haynes's documentary The Velvet Underground, produced by Killer Films, will receive its premiere in Cannes Official Selection next month.
Rocket Science's Cannes sales roster includes Sean Penn's Competition entry Flag Day that has just been acquired by MGM for North America, and Eva Husson's Mothering Sunday in the Premiere Section.
Recently announced projects include: Zach Braff's A Good Person starring Florence Pugh and Morgan Freeman; Robbie Williams biopic Better Man from director Michael Gracey; Sophia Banks' Black Site starring Jason Clarke, Michelle Monaghan and Jai Courtney; and Oliver Hermanus' Living starring Bill Nighy and Aimee Lou Wood.